Gambhir give reply to his critics by his backk to back centuries..........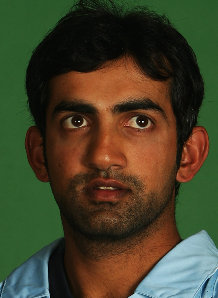 India
December 5, 2010 12:59pm CST
After Making Gambhir as captain so many rumours were there that how come he can become the captain when he is not in form. But his back to back centuries gave a strong reply to his critics. What you think????????????
4 responses

• India
7 Dec 10
Gambhir returning to form was just a matter a time.Like the greats of game always say form is temporary and class is permanent ,Gambhir had some trouble with his leg injury and good to see him fully fit and also in form.Before the start of series against NZ many Indian fans and cricket experts were saying that Vijay and Pujara should be preferred over Gambhir, that is Vijay should open , if not then Dravid should open to make way for Pujara.But Dhoni and Kirsten did well to stuck with Gambhir .After injury a player needs some time and matches to retain his form same happened with Gambhir.His returning to form is good for India before tough SA tour.

• India
7 Dec 10
Even in interview, Dhoni showed gis confidence against Gambhir as an opener.you are correct after injury a player need some time to recover it back and I am happy Gambhir come back to his original form.

• India
6 Dec 10
Critisim is part of success and failure, so if one is not performing it has to be there. Good part is that Gambhir took it right way and now playing too good which is in the best interest of his growth and India. Hope he will continue playing same way, also he is a great caption. Thank you for sharing.

• India
6 Dec 10
Yes, I also hope he will perform like this in Future specially in sA and World Cup.

• India
6 Dec 10
The thing is Gambhir has recovered from his bad patch. There were no question of his class but his recent form before the NZ series was raising many questions but he has stopped them with two back to back unbeaten century which has helped the Indian side to win the series with two matches remaining, more over he has lead India in the absence of regular skipper MS Dhoni well. His ongoing forfm will boost his confidence and India will get benefits in the upcoming SA series and the World Cup. Gambhir was always a consistent batsman and he is capable of turning the match single handly.

• India
6 Dec 10
Yes, I also agreed that Gmabhir is a consistent and class left-hander batsman. But last few month didnt go well for him because of his injuries and few last knocks in test matches. But after his 2 back to back unbeaten centuries definetely boost up his confidence which will definetely help India in SA as well in WC.

• India
5 Dec 10
he is a great batsman and now he proved as great captain too.

• India
6 Dec 10
Yes, he is a great batsman, not like Sachin and sehwag but he is a class left hand batsman, who can play faster and slower bowlers effectively. I think thats why he is opener in all forms of game i.e. test,ODI,T20......