Biggest gingerbread I've ever seen!!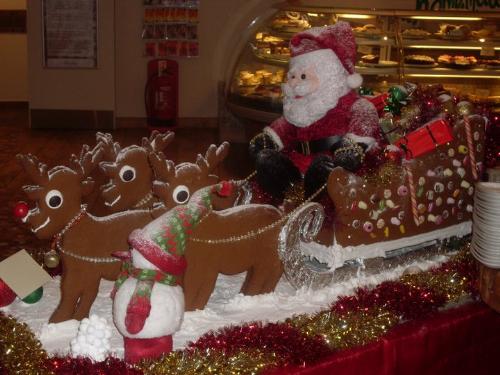 December 6, 2010 10:49am CST
I've been to a local garden centre today to look at their wonderful Christmas displays. In the cafe was the biggest gingerbread creation I have ever see, it was Santa's sleigh and reindeer and was all edible!! It was covered in sweets and looked totally delicious. Have you seen any gingerbread creation like this?
8 responses

• United States
6 Dec 10
That is AWESOME!!! No, I've never seen anything quite this large before but it really is something. I bet the kids who see it are loving it! Actually, I'm quite happy to have read this discussion because I'm going out soon to pick up some ingredients to get all my holiday baking done (at least the things that I give to people). Gingerbread and gingerbread cookies are on my list and I need more molasses. I had forgotten to put it on my list until I saw that gingerbread display you posted. THANK YOU!!!

I hope one day, before I'm too old, to have grandchildren to bake a gingerbread house for. I made one a LONG time ago and it was such fun! I doubt anyone I know now would appreciate it if I did make another one.


• United States
6 Dec 10
Oh, that sounds like such fun! I remember the days of taking my kids to see Santa. Except for the inevitable line you must stand in for what sometimes seems like forever, it was always wonderful to see the kids' faces light up when they saw Santa. If you get a photo, please share it with us!

• United States
8 Dec 10
Oh, this reminds me of when I was little. My mother always made gingerbread cutouts so we could make a gingerbread house. Oh the fun my sister and I had decorating it. She now buys the gingerbread kit, but still has fun with the grandchildren decorating it. I have never seen a gingerbread display as large as the one in your photo...it must be very tempting for people with a sweet tooth...lol

• United States
7 Dec 10
This sounds very interesting. I have not made any gingerbread structures nor have I viewed any really that are exceptional. I bet it was a fun thing to see.


•
6 Dec 10
I've seen very little in the way of decorations this year. I guess people are holding on to the pennies.

• United States
6 Dec 10

One of the most wonderful scents of the holiday season is the smell of gingerbread. There are so many traditions thaty go with gingerbread. I love to see what creations people can make. The houses that are made can be so special. Some of them look just too good to eat!

• Pamplona, Spain
29 Jan 11
Hiya chem, This is a bit of a late one better late than never though. I love that display it´s really wonderful and of course too good to eat. At least when you are first looking at it you are thinking and smelling the Ginger Bread. Later on the hunger might strike you and get you to eating a piece of it that they might be selling. I don´t how they do things over there. They make displays like that here but you can eat slices of it after a few Days. Usually the make Chocolate Displays more than anything and I have seen some really great ones too.



• Canada
7 Dec 10
No, I have not seen anything like this. The only question I have is when can you eat it? LOL