Serval Cat Vs. Regular Tabby Cat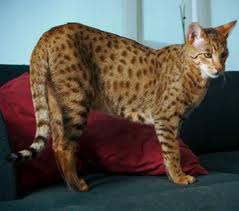 United States
December 6, 2010 6:48pm CST
I recently found myself in a bit of a pickle as I am looking for a new cat for my current cat as a companion. My problem is is that I dont know if Servals get along with normal cats or would they constantly fight? My current cat is a boy so I will be looking for a female kitten. If anyone has any further information, it would be greatly appreciated.
3 responses

• Shingle Springs, California
7 Dec 10
do you have a serval or were you thinking of getting one? My issue is, a serval is a wild cat, and who knows how they would react with a domestic cat. I wouldn't take the chance myself. But surely there is some place online where you can research it.

• United States
7 Dec 10
I'd stick with a regular cat, you can be sure of the personality better than a wild animal. Serval's are wild cats, even Savannah's need to be less than a quarter wild to trust their personalities. Stick with a regular cat, of any color and you will have fewer problems. preferably get a rescue cat, they tend to be more grateful...

• United States
7 Dec 10
Thank you for these great responses. I will get as much information about this as possible before deciding. I didnt know Servals were fully wild though. I think the alternative to the Serval would be a domestic bengal kitten as from what I have read are fairly popular, especialy in my area. Thanks again for all the wonderful responses!

• United States
7 Dec 10
So you own a Serval? I'm curious as to how you came to own a Serval. And yes, as other people have said, servals are wild cats. I didn't know you could tame that at all, but if it's tame, then it will probably get along with other cats. I wouldn't recommend getting another male cat, however, as two male cats in the same household tend to not get along. (Mine didn't like each other at all for months, but they get along now.) I would also recommend getting a rescue cat. So many cats need good homes, and there are tons and tons of breeds of domestic cats, mixes and pures available for rescue. Check out you local shelters and talk to the people there. I would also say you could ask your vet about your serval and what would be a good companion for it.