Her First Christmas!!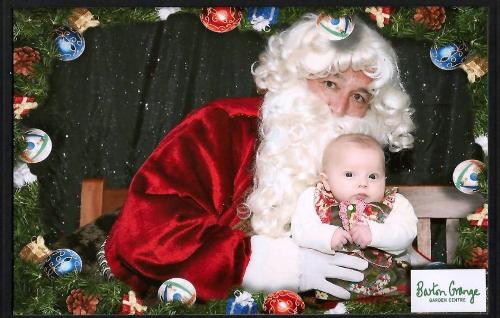 December 7, 2010 11:09am CST
I was able to go today with my daughter as we took her 2 month old baby for her first visit to Santa's Grotto!! Olivia certainly loved Santa and was very happy to sit on his knee!! Not all my children or grandchildren have been so cooperative for Grotto photos! Have you had much success at getting decent photographs of your kiddies visit to the big man??
9 responses

•
8 Dec 10
Good to hear that she had a great time.

I have none of my own, or any to take photos of. If you ever buy an editing package I have found that Corel 3 is fairly handy. There is a free 30 day evaluation that you can download. What next? Off to see red and green M&Ms?



• Shingle Springs, California
9 Dec 10
She's adorable! But I didn't know that Santa had a grotto!!!

•
10 Dec 10
Another example of the differences of our two countries!! I know you have the same principle, guess you just call it a 'visit with Santa' or something. It is where shops and other premises have a special area designated for the children to go and visit Santa and usually get a gift. Here in the UK it's called Santa's Grotto



• India
7 Dec 10
My daughter gave a big yell when she was given to santa and the poor santa looked so frightened to hold her when she was just one year old! That was pretty funny to see the look on everybody's face that moment.

I have moved away from that place now and am elsewhere where we do not get to join in the christmas celebrations at all. The earlier place had a lot of Anglo-Indians and they celebrated christmas the whole month!

Missing all that.

• United States
7 Dec 10
It is the only picture that I take my daughter to get all year. The rest of the time I take my own. I have gotten a few good pictures. I was a little disapointed this year as I did not care the Santa but it is still a good picture of her. My husband hates going with me because I am always disapointed at first but get over it. This is her 4th year going. This is the first year she actually asked Santa for something. She is three now and only one year she did not sit on his lap so he is standing behind her. It was pretty funny. The family always enjoys the photos and so does my daughter I know that I am just too picky.

• Canada
7 Dec 10
Very cute photo. My kids are now 12 and and over the years we have gotten a few good photos with Santa. When my daughter was 3 she refused to sit on santas knee, so instead we have a photo of her sitting on a stool beside him. She's smiling and happy in it, she just didn't want to sit on his knee :)

• Canada
7 Dec 10
I glad you got a few good pictures. Santa is, admittingly, a weird looking man...which is why a lot of babies and kids are scared of him. my kids are 14 and 20 now, but I have gotten a few good pictures when they were little. A first Christmas is very exciting for you. Hope you have a great day.

• Pamplona, Spain
30 Jan 11
Hiya chem, What a really lovely photo. You were so lucky to be able to get Olivia to go and sit on his knee as calm and as happy as that. That one is a real beauty if ever I saw one. I did manage to get my youngest one while we were in England one Christmas. Not too bad either considering he was much older than tiny Olivia. Also he is a very good realistic Santa as well to go with it. Bet it´s a visit she won´t forget in a long time especially seeing the Photo of herself.