Trying to put the blame to others...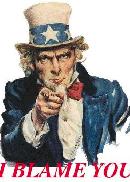 Philippines
December 10, 2010 1:05am CST
The very thing I hate is when someone tries to put the blame to others, trying to escape from their responsibilities, trying to ruin others just to clean their selves. I have a friend who's apparently my head on our job, so everything is in her hands, decisions, planning, who's to fire & who's to stay. In my job her presence is very essential because her notifications are very important, especially because in my job, changes always occur almost everyday. She sometimes forgets to inform us, me of the changes that ends up me being grounded by our boss. But she always says that she informed me about the changes but the is that she never did, she just always puts the blame on us. She never admit it, rather pushed me to the edge & place all the fault to me, but I haven't done anything without her consent. I'm just doing what she told me so, it was her fault but she blames it on me. She always does that, when some of my colleagues are having the same problem. If I was wrong, I would say it straight & ask what will I do to make it right. I don't put blame to others about what I did. Honestly I really does that, I'm strong enough to face my problems & responsibilities. There are just others who are immature & not strong enough to face it.
10 responses

• Malaysia
10 Dec 10
I am sorry to hear that you have become the victim of an unprofessional attitude of your superior. They are people who want to protect their own skin by putting the blame on the staff but this kind of people won't stay long in their profession as there will come a day when their true color comes out. If your conscience is clear you shouldn't worry of anything. Just be patient.

• Philippines
10 Dec 10
Yes, you are right.. I finally resigned from my job it was too stressful.. I don't want to destroy our friendship just because of it. Am I stupid? I don't know what's into me that when this things happens to me i just let it pass & never make grudge about it. If something worst happen to me now, tomorrow I will just forget it & move on like nothing happen. I'm not even sad about it, because God makes me so happy now. Even though hardships come pass me. I still feel happiness because I'm not a negative kind of person. I love my life & how God planned it to be.

• India
10 Dec 10
Many people as you say do not have the force of conviction to stand by their words.They are as you rightly put it not strong.More than immature i feel they don't have the strength of character to stand by their convictions.Shifting blame proves they aren't strong or reliable or for that matter trustworthy.Such people will not go far in their career as they can't shoulder responsibility and the ability to take others along.

• Philippines
10 Dec 10
Even though she does this things to me, I still don't want her to be fired that's why I keep my cool & shut my mouth even though she's really getting in my nerves. She's a good friend but when trouble come, she will left you alone. =(

• Philippines
10 Dec 10

I hate that kind of people too!!!!!!

If there are many of you who has a problem with her then report her to your superior!!!!


• Philippines
10 Dec 10
That's the problem, our superior only believes in her that's why we can't do anything about it. Plus she's my friend, I can't do such thing to her, even though she does bad things to me. I don't want to do it to her, I'm not that kind of person.

• Malaysia
11 Dec 10
I really hate this kind of people. Very bad luck to meet this type people especially your boss. I am one of the bad luch guy. When there are a good thing, then my boss will keep to himself. When bad thing happen, he will blame others. He told me something and asked me to tell others. When i told other about this and something happen, he will blame me why didnt inform other but actually the thing he blame is different with what he told me earlier.

• Pakistan
11 Dec 10
If you have problem with your head,or you think she is your friend really,try to inform and negotiate with her, if she is so arrogant, plan with your victim colleagues, and get evidence against her, and report silently to your superior boss, I say about team planning, because if you take action alone, there would be chance to reject your claim. So it would be better to make your team to install planning. Thank you for sharing your problem.

• Shingle Springs, California
11 Dec 10
Annoying. I don't suppose you can start asking for things in writing? Naw, they'd probably just tell you lost it...

• United States
10 Dec 10
Hello gracielle, I understand what you are going through. It happend to me on a job when I lived in Las Vegas. My co-worker tried to blame me for his mistake but got caught in a lie. All I can say is give it to the Lord and He will work it out for you. You just need to cover your tracks on the job. And keep yourself n the loop. Merry Xmas

• Singapore
10 Dec 10
That's what I hate as well, people pushing their fault to others and blame them for it. It's not right and not fair to the other person especially when they can't defend themselves. It's difficult to change those person with this characteristics because they will not even listen. With someone like that in the company, I can only say, do your best. If possible, try ways and means to find out about those changes on your own rather than depending on her.

• Singapore
10 Dec 10
I've experienced this when I was in primary school. There was this guy, who drew a lot of nonsensical pictures and then was playing a fool then. He told me to pass to someone sitting in front of me and just nice, the teacher walked pass and demanded the paper. I handed it to her of course and she scolded me. I told her that it was the guy behind me who drew all those pictures and she asked him. But that guy denied everything and kept accusing me and pushing the blame onto me when I hecking didn't do it!!! Luckily, my friend explained the whole story to my teacher and she was very enraged at that guy and punished him. SIGH! I don't know why some people just don't want to be responsible for their doings and keep shifting the blame onto others.


• Malaysia
10 Dec 10
Hi, It is definitely not good to have such superior in the office. But what to say, She is still higher level than you and you have to listen to her words. But being an irresponsible superior, you and your other colleagues can make a report to your boss on her attitude in work. Because of her bad working attitude, you have to bear all the responsibility and being blamed for whatever mistakes that she done. Not worthy and I believe you won't be happy with such working environment. Take an action to inform your boss on her attitude and the next step is depend on your boss whether to investigate throughly and make further action against her. Wish you happy working !!