would you like to be a kisses teacher?^^ ahah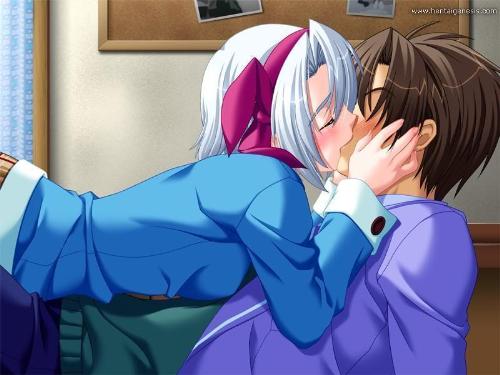 Portugal
December 10, 2010 4:54pm CST
hi guys

would you like to be a kisses teacher?^^ about me i really never thought about it but i wouldnt like bcs i would have to kiss people that i feel nothing for and for sure not all would be cute guys ahah

so kiss ugly ones with no chemistry not my piece of cake for sure ahah but sure if was kiss only cute guys sure i could be a good teacher ahah a cool profession huh? ahah what about you guys? would you like to be a kisses teacher? ahah please share

Cat
8 responses

• India
11 Dec 10
Well I would become a kisses teacher if there are only hot girls and the other condition is my girlfriend shouldn't get to know about it but it would be really fun earning money from kissing wow I would enjoy if there are only beautiful girls...........


• United States
19 Dec 10
I would i mean i don't do anything based on how i feel everything i do is based on logic so if it makes someone happy why not.

• Mexico
11 Dec 10
Hi sweet love forever: I think this would be a good job only if I could chose my students of course. The worst part would be to be a kisser teacher and to work only with the ugly ones... that would be so disgusting, like a nightmare

. But if I could select who are the good girls that a re going to make part of my school, sure I'll do it even if the pay wasn't that big

. ALVARO

• United States
11 Dec 10
of course but I'm like you it would need to be some type of good looking guy for me to kiss. If not I would just be too grossed out to kiss them, I mean what if you get an old man that is like 60 yrs old with dentures and really bad breath, haha, that wouldn't be fun.

•
11 Dec 10
This could really be my dream job, just need to find out if i am any good at kissing, but not had any complaints yet so you never know. I would love a job like this, i love to kiss and be close to women, it would be a dream job, and also getting paid for it also. It would be like i was in heaven really. It isn't a case really of kissing someone you feel nothing for, at the end of the day there is no feeling there for you or posibly them, they are not who you go home to at night, all you would be doing is passing on the experience you would have to help them later in life when it comes to them kissing someone, that is a great gift and thing to do, to know that what you taught someone could create a great relationship. To me it doesn't matter if they are cute or not, they still need teaching, lets not pick and choose who we do and don't want. So if i was to be a kissing teacher would you be one of my regular students?

• Tunisia
11 Dec 10
LOOOOOOOL, that's not a bad idea, haha, but the teacher will have to kiss all his apprentices, the ugly, the stinky, & the hot ones. One more thing, if the kissing teacher is you, i'll be glad to kiss you, hehe :D So it's a bit risky for the teacher,lol, i have a better idea sweetloveforever, a kissing coach is great idea, he have to teach the couple how to kiss, how to properly use the tongue, so he doesn't have to kiss strangers, lol. The kissing teacher is a bit risky, coz if he's so good in kissing, he'd probably steal girlfirends from their boyfriends, haha.