2 legends of cricket, and both never lift the worlld cup?????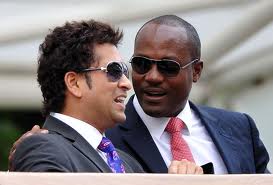 India
December 11, 2010 4:26am CST
2 legends of world cup - Sachin and Lara and both never won the world cup till now. It is really very unfortunate. Also it shows that a team cant won the world cup on the basis of 1 player, full team has to perform. What you say about it?????????
6 responses

• India
11 Dec 10
It happens my friend, even Laxman who won so many matches for India has never got a chance to play any World cup . But these legends have seen the glory in test matches .Sachin always played well in World cup but he got very little support except in 2004.This time India has very good chance of winning the cup and dedicate it to Sachin.

• India
11 Dec 10
you cant comapare sachin and lara with Laxman.As Sachin and Lara are legend of cricket and Laxman can play only in test cricket,he cant play in ODI. I agreed that Sachin always played very well in world cup but he didnt get good response from his teammates.

• India
12 Dec 10
I am not comparing them mate, my point is many players who are not half as good as Laxman played the world cup but he didnt get a chance.Similarly many players who are nowhere close to Sachin and Lara managed to be in World cup winner team.Thats luck.This time India has best chance to win the World cup as they have a balanced team and even youngsters have good experience now. Hoping for the best.

• India
12 Dec 10
Yes, you are correct, both SAchin and Lara are legend but they never get support from teammates, thats why they did lift the world cup till now.


• India
16 Dec 10
Ya correct, Cricket is a team game so team has to perform in all department i.e. bowling, batting & fielding also.

• India
14 Dec 10
They were legend but cricket is a team game. World Cup is not about a single match, it is a tournament. Each and every match is important in the knock out stage, because losing a single match results BETTER LUCK NEXT TIME. Lara and Tendulkar are two legends but they couldn't lift the cup. Lara has retired and Tendulkar will get another chance again next year which will be sixth world cup. Tendulkar went very near in the year 2003, became player of the tournament, scored 673 runs in the tournament but failed in the final match against the Aussies. But we hope he will try his best and the rest is upto GOD almighty. Team need to play well and one or many have to make up the mistakes of the others. Lara was unlucky, he never went so far, not even a final match of a World Cup and his team poorly performed in the last few world cups. To win a World Cup, a team effort is must because single handly leading a couple of matches is possible but too difficult for a whole tournament.

• India
16 Dec 10
I also agree that India has a very good chance this time. but you cant forget England as they are in very good form right now. And they will definetely try to break his old record to be runner up in 3 world cups.

• India
12 Dec 10
What you need to win a cricket match is, your 4 men performing. 2 batsmen in great nick and 2 bowlers with decent enough form plus fielders helping in. Rest can just chip in with 20s or 30s or 1 0r 2 wicket may be even economical spell and there you go to top. That's what India have never been able to achieve consistently. Sachin nearly got them home in 2003 but wasn't enough. This time being in sub-continent is a big plus. Lets see

• India
12 Dec 10
Yes, correct sachin brings very near in 2003 but Indian team and sachin was not able to perform in the final and India lost. Yes, this time India has advantage that this time WC is in Asian sub-continent. Hope this time India win the WC.

• India
12 Dec 10
Well you are very irght My friend , But You will see this time Sachin lifting the world cup In 2011 World cup. have a nice day

• India
12 Dec 10
I also hope the same, this time definetely SAchin and India will lift the world cup.

• India
11 Dec 10
Cricket is a team game. Individual can help you win 1-2 match, but in a World Cup the entire team needs to perform. Batting, bowling and fielding needs to be at its highest standard in order to win the Cup. Lara doesn't have any chance of winning the Cup anymore, but Sachin can. Let's hope India does win the Cup.We have a decent team to beat any side and this World Cup is in the subcontinent which is another plus point.

• India
11 Dec 10
Yes, I agree Cricket is ateam game and you cant win the world cup on the basis of only 1 player. This time, India has very good chance, hope India wins.