Long distance relationship.... will it work? (Part 2)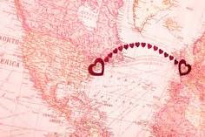 Australia
December 14, 2010 5:06pm CST
For those who read the story of my friend last time, you know what happen... but for those who havent read... here's the summary. My friend loves a girl he met while he's studying in Malaysia but not sure if she loves him back. Well.. Recently I met my friend yesterday he told me what happen after i gave him advice what to do about this girl. Eventually he is confused about the girl telling him that she consider him as a good friend. That part discourage him but she also told him that none of the guys have won her heart yet and he think that there is still a chance if he dont give up.. And the most encouraging thing is that she told him that she may let him a chance to try to win her heart when they meet. What do you guys think about the situation? Do you think that there is really a chance that she could let him win her heart? I told him that i will think about the situation and give him some advice later in the future..
3 responses

• Bolivia
15 Dec 10
My dear friend, yes.long distant love can work out. I am in a long distant love with my boyfriend for almost 2years. And we are doing pretty good. But of course,He flys from another country to meet me every month... True Love can overcome distance,age differnce... That's what i believe. For your freind's situation,i think he need to take initiatvie. I think the girl likes him.If your keep moving,i think it will succeed in this relationship.

•
15 Dec 10
I think the chance is still there, as long as your friend do not give up!!! The good thing here is the girl still let your friend to approach her, think in mind that if a girl really do not want you to be her another half, will she do so? Definitely not. The another good thing here is the girl still available, the chance to win her heart is greater. Do advice your friend do not give up and keep moving, happy mylotting.