did you ever dream to be with a guy like your actual lover? ^^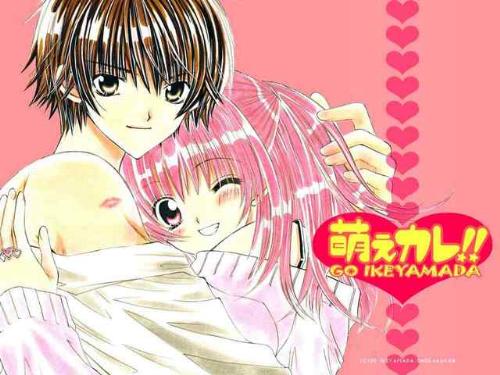 Portugal
December 15, 2010 11:59am CST
hi guys

did you ever dream to be with a guy like your actual lover?^^ we all have an ideal person mostly but did you imagine yourself with someone like your lover? i mean for example imagine that i say i can imagine myself to fall for a guy that is emo for example but imagine that i fall for one? so what i mean is if you thought you couldnt love someone with a certain style or with a certain personality and you ended up falling for someone that you never imagined you could fall ahah

did this happen to you? or is your lover someone you dreamt to find and you really found it? about me i dont care as long as i find a boy that loves me and i love and makes me happy i dont really care for his style ahah what about you guys? please share

Cat
10 responses

• Mexico
16 Dec 10
Hi sweet love forever: This has never happened to me. However I am still dreaming on the girl I wish it would be my girlfriend: I can imagine the way she look, her profession, her sense of humour everything but it's just imagination. Can it be possible or dreams will always be dreams?

I don't know but I'm sure that if I'd find the girl of my dreams I would easily recognize her. ALVARO

• Philippines
21 Dec 10
I have dreamed of an ideal guy before. I dream that he should be this and that or have this and that. But when i met my bf, i forgot all about my ideal guy already. I told my bf about my ideal guy but he never cared because we know we both love each other. So the answer to your question is no, my dram guy was the very opposite of my lover. I think it's normal to have a dream guy but if we find a guy that isn't our dream guy, it doesn't mean me can't have a relationship with him anymore. We can still be loved and feel love even if our lovers are not our dream guys..

• India
16 Dec 10
well i think i am like you in this case! :) i don't usually believe in the perfect guy whom you can give a ten out of ten. so according to me, if he is adorable and makes me happy and if we are quite compatible, that should do. i did end up with such a guy and i am really happy too! life rocks! :)

• Pakistan
16 Dec 10
if both are serious in love then love increase and do not go behid that person that do not like you .if any body love you then you have also dreams to live with him.

• Romania
16 Dec 10
usually it happens exactly like you said. you make yourself an image of the ideal person, you keep dating and your ealise that you can't find the person you tought it was perfect for you. instead you might fall for someone you never tought. a friend of mine dreamed about being with a tall girl with dark hair and skinny...well what do you think:he felt in love with a small girl, blonde and not that skinny. so I think we should be opened to all the posibilities: the way he looks doesn't say anything about him as a person ( he might be really good looking and not be so beautiful inside. personally I would like a guy who would be loving...I don';t want one who looks like brad pitt)

• Indonesia
16 Dec 10
yes, i have found someone i dream about but not exactly what I'm thinking about. but it's OK... no body perfect. as long as we're both happy, enjoy the life..follow your hearth, don't follow people say. this is my life and i have rights to chose the way of life.

• Philippines
16 Dec 10
When I was a teen, I dreamed of finding true love. It took years before I finally found him, actually we found each other. From there, I understood what true love means. Its not about what he has, or how he should be. Its not about meeting the list of your requirements for a perfect guy. Its about acceptance, and sharing. Its about the feeling of happiness you felt knowing that the one you love, loves you back.

•
15 Dec 10
I am still single and so any dream i have about any women would be better than what i have now which is nothing. I guess it is better to have a dream that seems to have the perfect person for me rather than nobody with me and no dreams at all. I just want to find the perfect dream woman, for someone to treat me the way that i would treat her. To end up finding the perfect love, someone that i can share the rest of my life with and to be able to grow old together. I want to have such a happy, loving and long lasting relationship, i am sure that she is out there waiting for me, just have to find her quickly.

• Tunisia
15 Dec 10
That's a scary thought, or dream, sweetloveforever, haha. That can happen sometimes when you have a fight with your partner, yo hate him/her for a bit, till you wish you never met her/him,lol. But at the same you wish you meet someone 90% like your her/him. But you know what i beleive sweetloveforever, you can never have the perfect partner, wether he/she is rude you'll like him/her though, stnkiy or not, you'll still love him/her. Love is something so ambigeous, & like you said " as long as i find a boy that loves me and makes me happy i dont really care for his style ", that's the buttom line.

• Bulgaria
15 Dec 10
It's like you read my mind today. This is what happened to me just this week. I fell for a guy I never imagined I could have a crash on. I mean I've known him for ages but I always regarded him simply as a friend. He is so not my type in appearance, meaning he's too short and I like tall guys, his hair style is totally out of fashion but he somehow made me look at him in a different way. Maybe it's the communication betweenus that changed my opinion. Keep your fingers crossed for me so that this relationship lasts.