Black Fawn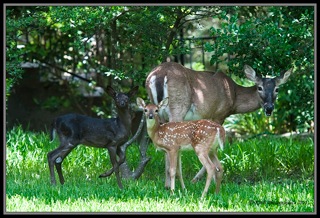 United States
8 responses

• United States
18 Dec 10
Wow! I never have seen a black fawn before! That is so cool! It just isn't alone but with mom and a spotted sibling! That is cute! I wonder how many black fawns are born in the wild? Inquiring minds want to know!


• United States
18 Dec 10
On the north american continant, "Melanistic" or "Melanic" as the black fawn is known by scientists that study them because of their bodies produce to much hair, skin and retina pigment known as melanin are deffinately the rarest of the rare. While millions of white tail have been harvested across the continent in modern times, only a token number of melanin cases have been documented. So being able to catch one of these unusual little fellas in the wild would surely be a moment to be treasured! As they say a once in a lifetime up close and personal view.


• United States
18 Dec 10
Thanks I love sharing stuff with other people and talking about them.

• Philippines
30 Dec 10
Wow! Awesome! never seen one before and I would presume a fawn is a young deer?? Yes I would agree that it's melanine pigments responsible for the black coloration, the same way albanism occurs in nature, was just wondering what purpose it has for the survival of the specie and the possibility that such a phenomenon can occur, amazing , thank you for the wonderful picture


• India
22 Jan 11
I have never seen a black fawn. The picture is absolutely wonderful. The nature is really wonderful.




• Israel
18 Dec 10
I love the pic! I had no idea black fawns even existed!