DANGER DAYS: The true lives of fabulous killjoys..heard of it?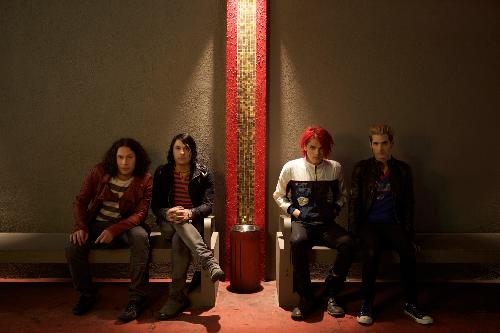 Philippines
December 18, 2010 4:56am CST
This is the latest album of My Chemical Romance and I think it is really awesome!
It's a brand new sound that can make you dance, I know it will really make you dance with smile on your faces because it just made me do it! Anyone here who heard of the songs in this latest album? I guess some of you guys did, so share some experiences you had the first time you heard it too.

me? I jumped with joy and saved it to my laptop and played it to the maximum volume in our player! woot woot.. :)
8 responses

• India
18 Dec 10
No idea on this - do you have some link of the same?? Thank-s

• Philippines
18 Dec 10
Well, I have a link to share to you. Oh, and by the way, I am the daughter of jaiho2009 :), and in discussions about music such as this, I'm the one she instructed me to post discussions and comments to. :) If still you're interested, here's one of the song in their album. http://www.youtube.com/user/mychemicalromance?blend=1&ob=4#p/c/0B8213D1340F1731/8/egG7fiE89IU



• Philippines
22 Dec 10
Yes

This album is their latest one, and it was released last November 22, 2010. If you know them and you love rock music, I guess you will love this album too.




• India
18 Dec 10
I just sees something on the YouTube - let me see few of them.........

• Philippines
21 Dec 10
Gee until here in Mylot still Gerard?my Gerard?hahahah!:P well i think this one is better :D, besides you will get mad at me if i will say something not so good about MCR heheeh!What happened i thought it can make me dance but it did not happened maybe becoz this is not the type of music that can make me dance hahaah! The first time i saw it all i remember is you :d and besides you already shown this to me before, right? miss yah!

• Philippines
22 Dec 10
wow. you responded! :) well, it's okay if you tell the truth ate catch. :) even if it hurts my feelings! hahaha! I miss you too. :)

• Philippines
22 Dec 10
Can you do me a favor? or should I say, can all of you do me a favor? Well, there's a competition here in MTV about the "Most Epically Unforgettable Video of 2010" and one of the list is the music video of
"NA NA NA" by My Chemical Romance.
Can you guys go there and vote for them, and hurry 'cause the voting ends on December 26.
Here's the link:
http://buzzworthy.mtv.com/2010/12/15/mtv-buzzworthy-blog-fan-favorite-unforgettable-video-of-the-year/
Thank you to all of you and happy holidays :)




• United States
1 May 11
My favorite song(s) off the album is Destroya and Summertime and maybe Vampire Money =D i agree with you. I love how they to a risk (and succeeded)in producing a new sound some might like it, me on the other hand i L/O/V/E IT(S/C/A/R/E/C/R/O/W) Well basically i love all of their albums and will continue to love all their albums that they put out MCRmy