it wasn't me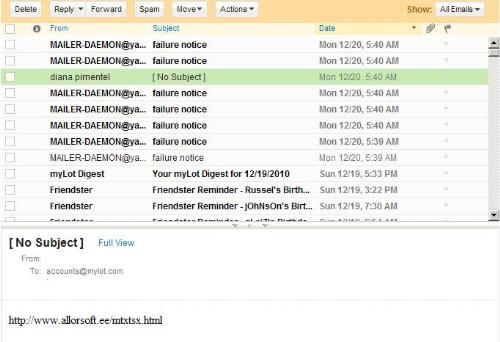 Philippines
December 19, 2010 8:22pm CST
it was this morning, i received a text message from my boyfriend saying that i had sent him a yahoo mail message with an unfamiliar link. i was shock since i havent gone to use my yahoo mail for quite sometime. he told me that it was an attack site. i do not know what was he's been pertaining, then i opened my email and ta-da! i have lots of mailer daemon messages. there was also an email with this unfamiliar link. i dont know what to do to secure my account. have you been through this? why they used my email account? is this a scam? any points of view is highly appreciated. :)
8 responses

• Philippines
20 Dec 10
I think what you got is a mailer virus, never experienced it before but I had a friend who caught it once and he ended up emailing everyone in his contact informing them that the email they received with a malicious link or code did not come from him. It's a terrible thing, the virus or whatever it is goes to your contacts and starts sending emails to them,really weird , I suggest you update your antivirus and run a full system scan on safe mode, good luck




• Philippines
20 Dec 10
It is sure a scam and a phishing site! Do not open those creepy links because they will sure ruin your accounts and your PC. Honestly i never experienced things like that but i always get SPAM MAILS. And whenever i encounter one i just delete it instantly. They used your account maybe because they have discover your password? My best tip to do now is to not open those links.delete those mails and most of all changing your email`s password for your own protection and privacy. :)

• Philippines
20 Dec 10
thanks! i have changed my password and deleted the messages. hoping that this would never happen again. :)

• Singapore
11 Feb 11
It ever happened to me too. I don't think it is a password thing. After I clear the cache, so far it hasn't happen...don't know if it ever will again. hopefully not. Do explain to your bf, and share the picture in here with him to explain your innocence.

• Vietnam
21 Dec 10
You should show to your bfriend the unfamiliar in your mail to explain him. Then, you should deleted all them and scan virus in your computer with the best virus scan system. Good luck!

• Malaysia
21 Dec 10
You really need to change your password as quickly as possible because not enough with that, this spammer is going to use all your contact emails address to send the same thing to their contacts as well. Your email is obviously being hacked by the person. I hope you can this solved, good luck and have a nice day


• Garden Grove, California
21 Dec 10
nr eereidiane hi thats a virus and they got ahold of your email addy and spoofed the address and sent your boyfriend a virus.you delete that do not open then run a virus scan of all your computer not a scam its a virus attack hope you have virus protection. the virus was put on someone elses machine who had your email address not a scam its much worse.scan your whole machine for virus and have your boyfriend do the same. good luck and God bless.

• Singapore
20 Dec 10
They are confirmed scams. Sometimes, if you see any unfamiliar sites with content that interest you and asks you to give them your email, don't do so as they'll sell your email to other scammers and phishers, and some even send viruses to it.

• Philippines
20 Dec 10
You're email account has probably been compromised. Did you use it in a public internet cafe? I don't know how to stop it as I'm no technician, but it would be a good idea right now to change your email password. And change it in a safe computer like your home computer. Also, don't open the website or any attachments. These things are very rampant these days.