I was tickled my husband wanted me up so he sends in the dogs to get me up...LOL

United States
December 22, 2010 5:45am CST
I was sound asleep and my husband wanted me up so he sent the boys in to wake me up....LOL I get a kick out of some of the stuff my honey does. He don't come wake me up he sent the dogs to get me out of the bed. Not a bad thing when I want him up I send the dogs in to get daddy up too....LOL I was sound asleep snoring as usual so my husband got up and when he was up for a bit he tells the boys to go get mom up. And happily here comes the dogs to get me out of the bed. There is no sleeping after that. Does your husband/wife send the dogs in to get you out of bed too? Do you send them in to get your wife/husband out of bed?
5 responses

• Malaysia
22 Dec 10
My dogs need no asking. I have 3 indoor dogs and if I don't get up by nine they'll go to my room and start scratching at the door. They won't stop until I wake up and open my door. This is the beauty of having dogs as they can act as alarm clock.


• United States
22 Dec 10
Hi Zandi. We don't let them in the bed for very long if we did they wouldn't ever get out of the bed. We don't ask them we tell them to go get daddy or mommy out of bed.....LOL Dogs are great to have. Oh yes the best alarm clock anyone can have is an animal.


• Romania
22 Dec 10
Guilty as charged.

I do send Binne to wake up my husband.

He usually get upset when
I
wake him up, but he never does so when Binne jumps on his chest and chews his ears to get him out of bed. He doesn't send her to wake me up, he prefers not to wake me up at all, because I'm quite grumpy when somebody spoils my sleep.

Yet, there are cases when Binne wakes us up both, and then nobody gets upset. You can't be mad at your dog because of that, can you?

• Gold Coast, Australia
23 Dec 10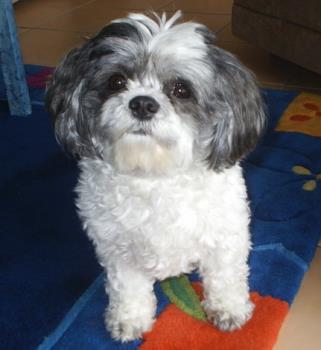 It's nice to know that someone else does the same thing we do! I'm always up before my hubby in the mornings, so when I think it's time he was getting out of bed, I send our little shih-tzu called Poppy in to get him up - she jumps on the bed, bounces on him, licks his feet and stares at him . . . it never fails! As soon as he is awake, Poppy settles down again on the bed and goes back to sleep!

• United States
23 Dec 10
Hi Abbey. That is so cool. How old is Poppy? She looks so cute. I love it when my husband dose this to me. I love doing it to him too it is so funny to see them licking on my husbands ears and him pushing them away to get another minute of sleep. It makes the day a little better to have our babies waking us up. They have us well trained don't you think?


• Gold Coast, Australia
23 Dec 10
Poppy is 11 years old now, although she doesn't look it. We have noticed that she is slowing down now - walkies are shorter as she gets tired, she sleeps more, and she has got very clingy since we lost our other dog Penny. She is my little shadow, I can't go anywhere on my own - she is right behind me! They certainly do have us well trained - but we love it!

• United States
25 Dec 10
Hi Abbey. So sorry you lost your other dog. I love having two dogs that way they keep each other company. But they are still our shadows we can't go in one room or the other without them right on our heels. 11 years old that is a pretty old dog she don't look that old. I bet she is miserable without her other friend to share in life. Are you going to get another dog? I know what you mean when you say you love being well trained by your dog we love it too it is so cool to have them as loving company. They are like our children and all they know is what we teach them.

• Guwahati, India
22 Dec 10
Very innovative idea of getting people wake up. I hope the dogs entering your room start barking and you are up....

• United States
22 Dec 10
Hi Krajibg. No they don't bark when waking us up they jump in the bed and start to love on us....LOL Tank the big one will nibble on your ears and snuggle in. Sam the smaller one jumps on you till you get up and pay him attention.....LOL We love waking each other up this way.

• Guwahati, India
22 Dec 10
Dogs are really faithful creatures.


• United States
29 Dec 10
My cats have an effective way of telling me they want to eat. If I am sleeping, and they have finished all of the food I left them last night, they will jump on me. One sits on my stomach, another works on the lower part of my body. Together they "march" on my chest and my thighs. I get the message. Actually, I enjoy the free massage.