Do you have enough food to get through this blizzard?

United States
December 28, 2010 7:37pm CST
I will be stocking up on food because of the nasty weather we could have. I need to get my peroxide to put in my milk. I will be buying three gallons of it. It will last me a while. I am getting me a lot of meat and some cans of things I will need incase of emergancy.
11 responses

• United States
29 Dec 10
My boyfriend and I went grocery shopping yesterday, as I hear your storm is heading this way. Perhaps not as bad but we normally do get quite a bit the first of January. So we did stock on several can foods as well has meats, so none of it will go to waste as when we grocery shop we get very creative, eat well and know how to make it last. LOL

• United States
29 Dec 10
I can't wait to get my shopping done. Maybe by then a cab could get in my yard. Lord knows it is pile high.. +

• United States
29 Dec 10
I just stocked up today for the weekend in case we get that blizzard they are predicting here in Minnesota. I'm not so worried about the power going out as it didn't go out last time when we had twenty plus inches of snow fall. I stocked up on milk, eggs, butter, and cereal. I already had a freezer full of meat, plus a few pizzas, mac & cheese, and hot cereals. I have plenty of flour and pancake mix. So I think we're okay in terms of food. One of the things my husband and I want to invest in, at some time in our future when we can afford it, is a generator in case of power outages. Namaste-Anora

• United States
29 Dec 10
Last year we go about 20 inches also and they are predicting the same if not worst here as well. Stay warm.

• United States
29 Dec 10
I'm not sure what our city will do with more snow. We're at about twenty four inches out where I live and if we get another twenty that would sink us lol.



• United States
29 Dec 10
Farmers in rural villages use peroxide to extend the life of fresh milked cows/goats. Namaste-Anora

• United States
29 Dec 10
Your right and that is funny that you asked this. My daughter loves milk and since I have cut back on drinking it and buy two gallons it use to spoil fast. So,now I can buy my milk put a cap of peroxide in it and it will be there for as long as we need it. The spoil is removed like magic. Right now we are out of town and for two weeks. My milk would be ruined when I got home. But,no not now. it will be just fine. with the winter getting colder. it could be a cold walk to the store just for milk. But not with this. I can't help it now I have done this for years it is a habit now.


• United States
29 Dec 10
Are you expecting more snow? Because I checked our 5-day forecast and by Friday we are going to be in then 50's..:)

• United States
29 Dec 10
Carmel- I certainly hope we don't get any more snow lol. My husband said he heard that MN was supposed to have a blizzard coming this way. When I checked the weather tonight online it said that ND/SD were both under winter storm warnings so that may be the same one heading your way. No one ever really knows I suppose where weather is concerned lol. Namaste-Anora

• United States
29 Dec 10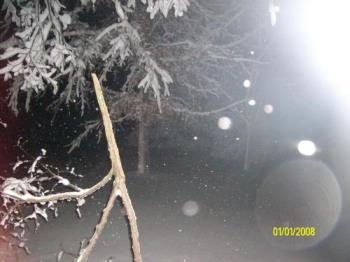 Doesn't Minnesota have bad winters? In Ohio it is a hit or miss, we can have maybe a few inches of snow all winter or get hit so hard that everything shuts down for days. I remember last February, it snowed so much, I almost felt like I was in a tunnel when I took my puppies out during the night. Yeah, I had two 10-12 week old puppies who had to be let out a couple times a night. But it was interesting to say the least, the feeling of being so isolated from everything. Below is one of my mid-night outings pictures of a broken tree branch.

• United States
29 Dec 10
Wow! I can't imagine poor little babies having to go out in that weather. Our own cat this year barely sticks her head near the door lol. She's a big scarred of this weather. Of course, when she was a baby daddy had a car accident with her when moving so she was in her carrier as his car slid off the road in the winter. The car never over turned but the spinning action and sliding did a number on her. Namaste-Anora


• Calgary, Alberta
29 Dec 10
Luckily in a tropical country so there is no snow, but during June to July is monsoon season so everyone will be soaked and wet. So yes I guess God is fair. You guys have blizzards and I have monsoons and storms. I always stack my fridge and cabinet with food so I wont experience hunger in incidents like this.

• Boise, Idaho
29 Dec 10
I think now days with the thermal warming and the conspiracy theory and such we should all be ready for the worst that could happen. Keeping stocked up on foods, clean water, blankets and such is very smart. There is even a place here sells large containers for food. Great idea I am thinking.

• United States
29 Dec 10
We are not having a blizzard here we are actully supposed to get into the 40's and have the snow melt off. I guess you could say I would have enough food as of this minute. Ask me again next week and I may not give you the same answer. Now what does the peroxide do to the milk? How much do you use?


• United States
29 Dec 10
Gifts, First I have to ask why do you put peroxide in your milk. I've never heard of such a thing. Truthfully I've lived through some pretty big storms and maybe only once in all my 54 years have I ever been truly snowed in for any length of time. Just the other night we had a huge north-easter and I travelled home from work in the midst of it. The roads were crappy but I know how to drive in the snow. Even when I was without a vehicle and maybe because I was without a vehicle, I was always prepared to be able to live for a couple of days or more should I not be able to get out and about for any reason. News of a storm does not send me running to stock up. I might make sure that I have enough milk and water...bread. I always have enough in my home to at least get through a day or so. We wouldn't die. And we never really get snowed in for any length of time.


• United States
29 Dec 10
Living in rural area, I have found that it is always best to stock up on items that you may need in the case that you can't get out. I have found that I need to keep essentials like sugar, flour, milk, and canned goods. We always have a freezer of meat and we always have a way to make bread in case. I like to be prepared!