This is my ideal wedding gown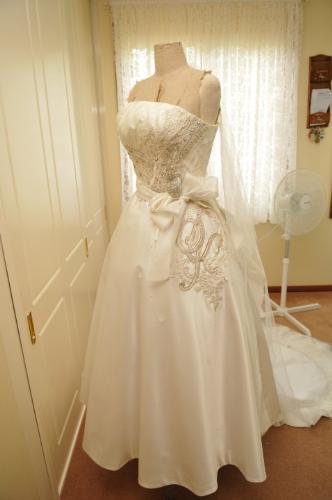 December 29, 2010 12:39am CST
What I want on my wedding day is to appear like a real Princess. As we all like in the fairytale is to be the princess and live happily ever after. But in real life we all know that its not. Im not excited to get married or what. Im just dreaming to have a elegant wedding. And now I decided to work hard to much money for my wedding day. Not only for that but to live on what I want to be. Since I never experience to celebrate a debut may be this will be a double celebration. I like to set my birthday as my wedding day too. How about you? To all single ladies what is you dream wedding and wedding gown? God bless! Good day! Happy New Year!!
6 responses

• Philippines
4 Jan 11
Good luck on your dream wedding gown. I can say it will be a very nice gown. As for me, i have never really thought about that yet. Although i wish one day to get married in a unique and one of a kind wedding, but i still don't know how it will be. A princess type of gown will be nice too but i am not sure yet really. Maybe i will be posting it here when i have thought about it already. I am not planning of a wedding soon and so i haven't been saving money for it. Maybe i will let my man pay for everything..lol! I will be saving for it when i can feel the right time for me to tie the knot is already coming. We cam still experience a happily ever after in real life, just as long as we are happily with our one true love.

•
17 Feb 11
I have no idea what will gonna happen to me in the future. But everyone of us are dreaming about the better future. I can say that I want to live happy, full of love and simple is just enough. I just seen that gown in one of my acquaintances and started to dream about future wedding gown since I never experience about having a debut. May be my wedding will be my late debut also. What I know about getting married is that we have to pay both of us. That's why I'm seeking for a earning now a days. Good day! God bless!

• Philippines
18 Feb 11
We are all free to dream. And its never a sin to dream as well so we can all dream all we want for our future. I never had a debut party as well but i never dreamt of having one either. Well yeah, Weddings are once in a lifetime experience and so we should make everything perfect for it.

•
19 Feb 11
better to have a debut celebration before its too late. It doesn't matter if I will celebrate it on my wedding day. As of now that's what I want but everything vary depends on the actual presentation. We are all free to dream so have some. Good day! God bless!

• United States
29 Dec 10
I think that a wedding can be just as nice if it doesn't cost a fortune and that it doesn't really matter what you are wearing as long as you are happy and in love.

•
2 Jan 11
I mean what I want in my wedding is like that. It really doesn't matter how much we spent to our wedding gowns. But to those people who are conscious they will ask that. Like my cousin who celebrate their wedding at its best. Of course, I also want to experience that. And in a wedding the only center of attraction is the bride I know each one of us want to appear good in every photos. Good day! God bless! Happy New Year!!

• Philippines
29 Dec 10
Hi there.

Though I am married but I haven't had the chance to wear a wedding gown yet. My wedding was a civil one and I just wore a decent dress then.

Well, I have a wedding gown on mind, too, It is something simply cut but very elegant and I am wanting to wear this on my church wedding. I hope the gown will not look out dated when that time comes and if ever, I will not be too old to wear such cut.

It is not bad to dream, who knows, one day yu will be able to wear it in real life. Goodluck to you, then:)

•
2 Jan 11
I never tried to wear wedding gown before. But this is my dream wedding. If not really like that but that's the pattern I want to wear in the future. Civil wedding is not allowed in my religion. Since Im not yet decided and really don't want to live away my family. My boyfriend and I are together for 21 months and I think not yet enough to get married. Wish you to get married in church too! I know its unexplainable feeling than in civil wedding. God bless! Good day! Happy New Year!!

• Croatia (Hrvatska)
29 Dec 10
Great idea is your option, if I was getting married I would do it on a special day to have a double celebration, and really enjoy my special day

•
1 Jan 11
That's what I want but we never know in the future if that is possible. Getting married is sacred thing decision in this life. It is a knot for a longest time. Once your done with it you must do everything because its all about having a family. So we must be with someone we really love for the rest of our lives. Good day! God bless! Happy New Year!!

• Malaysia
29 Dec 10
The bride is the center stage and the most photographed person in any wedding ceremony. She should look extraordinary charming in her most elegant wedding gown. It is only right that you choose carefully your wedding gown so you will look perfect in all your photographs.

•
1 Jan 11
Gown, hair and make ups are the queen of the wedding and the king is the jewelry. Its a very special thing to prepare. I know, we are all praying and dreaming to have a wonderful wedding celebration. We all dream to have a very good husband too. and soon to have a kind children. Practically we are only four in the family plus a handsome dog. But my boyfriend's family is more than 10 now with his nephews and niece. I can imagine that I have to invite more relatives to my wedding just in case. Good day! God bless! Happy New Year!!

• Philippines
29 Dec 10
I'm dreaming of a princess like wedding too. But, I'm hoping more for a princess life after marriage. What I mean is, having good and responsible husband and children. I hope for a better family life. Nowadays, it is very often that couple talks about marriage. They rather choose to be part of "live-in" life than on "married couple" life. So hard t o find a guy, who is diligent enough to really court a girl who has a dream of getting married. Wedding dress for me is like an obligation, more than a skirt thing. But if I were to choose, it is best to use only cheap or not so costly one so that we could add the money we save for future use.

•
30 Dec 10
Yes, I also want a perfect husband but nothings perfect at all. Its all about How we handle those things that passed in our life. How we manage the love with each other. And how we make it perfect each time. I can say that I had a good boyfriend. He is so nice and responsible just like when I met him in College days. We are so lucky that in our religion they don't allow live-in at the first place. Since birth I know that even been in a relationship is prohibited. I can say that I want to spend more in my gown, pictures, make-ups and video. Wedding comes only once in a lifetime. And just like I said I never experience to have a debut celebrating so its a double purpose. But this will not happen if I will not work hard and save lots of money. So looking forward to save more this coming year. Good day! God bless! Happy New Year!!