Why Not Bharat Ratna for Atal BihariJi?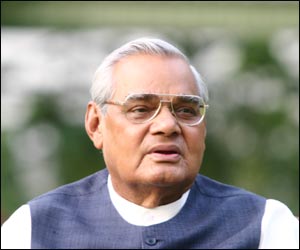 India
December 30, 2010 12:45am CST
Hi Friends, I was watching news last night and saw discussion about Bharat Ratna for Atal Bihari Vajpayee. There are different views and some one said that "What Atalji has done to receive this highest civilian honour?" I am saying why did some not question that for Nehru and Rajiv? Nehru is the cause for the kashmir trouble. His big mouth on plebiscite at the UN against Sardar patels advice is why we are trapped in this. His not recongnizing TIbet as a nation and his stupid approach with china is why we are now soft and lost a lot of land. Rajiv gandhi—Well maybe for Bofors he may be qualified. Infact it took 40 years after his death that Sardar patel was awarded the bharat ratna while Rajiv was given the same year he died. Why patel wasnt awarded till then? There goes hypocrisy and double standards. Actually congress loyalty:) Bharat Ratna has become the property of the ruling goverment and they give to anyone, there were few who deserve and got it but some of them got it because congress wanted to take advantage of their names. Different people may have different opinions on this as all are individual so thoughts may not be same but I believe that AtalJi deserve to receive this highest civilian honour. What do you say ?
2 responses

• India
30 Dec 10
Ajay - I am of the opinion that bharat ratna is something that is other than being a politician. I am not happy about either Rajiv Gandhi, or Patel receiving it. Ratna are searched ... politicians are already up there displayed prominently... where did we search them? So once they become politicians, they instantly lose their rights to be called Bharat Ratna, because they are already known to everybody, and will remain in history books. It is those whose names should figure in history books, and if not given such award, they would not be remembered, or the world would not recognize them, that we give Bharat Ratna. At least that is what I thought about it.

• India
31 Dec 10
in that case I would say that some of the Bharat Ratna are from Political background - like Jayprakash Narayan, Gulzari Lal Nanda, Sardar patel, lal Bahadur Shastri, Rajeev, Indira, Nehru. I am sure Sonia will be next from the Congress party. Do you think they did not deserve it being politicians ? My point is if Indira can get it for emergency and bringing the worst days for indians why not AtalJi. I think few of these did great thing to be awarded and most of them did nothing but were part of the leading party so got it.
Thank You vandana for sharing and wish you very happy and prosperous new year 2011. May this year bring lot of happiness in your life




• India
3 Jan 11
Thank you and same to you and your family Ajay. :) And here is why I am skeptical about Atal Bihari Vajpayee. He went to the UN and gave a speech in Hindi, which is commendable. But his going abroad to get his knee operated is not. Were Indian doctors not good enough for him? Where is the rashtriya feeling in that? Were our hospitals not good enough? Why spend in forex when we were already having a tough time coming out of it? Remember we were struggling against those sanctions after Pokhran II. What did we achieve with Pokhran II? We prompted Pakistan to spend more monies on its war budget and try to provoke us into war with attacks on our Parliament. And can we really say Pokhran II was a BJP achievement? Can research results come overnight? Dont we need required infrastructure? Dont we experiment and say this is not possible? So all those things also should be considered before giving any credit. At that point of time, sanctions imposed against us and inadequate funds in coffers had forced us to send our gold reserves out, remember? How do you expect me to applaud that? Oh - ok - he talks very well. But there has to be correlation between his swadeshi talk and swadeshi feelings. Now that does not mean that I like Indira Gandhi or Sonia Gandhi either. :) I think Indira Gandhi earned us a perpetual enemy when she chose to go on that war to get Bangladesh its freedom. Ajay, there is nothing called perpetcual supremacy in any field. A few years ago, it was Lata Mangeshkar, then Yagnik, and now Sunidhi Chauhan. :) Like that, military superiority also keeps on varying with time. Indira Gandhi was about to lose elections because of unprecedented price rise, as we are experiencing now. The only way left for her to win the following elections was to revive that feeling of patriotism. And she used Bangladeshis as an excuse. While I agree that refugees had problems, I dont think war was solution. It is like doing heart surgery when the patient is suffering with appendicitis. But nobody spends as much time thinking about why the politician makes such a move. They just get carried away by newspaper reports. We now know what Barkha Dutt was all about. I have been harping on this for ages even here. Such things have only come out recently. News channels, journalists, politicians and priests are all hands in glove. We the commoners who vote for them have no chance Ajay. Our votes are formality. We dont even know what we are voting for. We are not voting for issues, we are voting for parties or individuals, which is silly. We have plenty of issues, and we differ amongst ourselves as well. But we cant ask our candidate to represent us in that ratio. We are ok with taking public votes through SMS and telephones for Sa Re Ga Ma Pa. But we dont believe in giving rights to public on issues such as nuclear power. That is because horse trading would become non viable. I think educated non-government employees should simply protest by accumulating enough for an year or two, and just stop working. The complete country would come to its knees and we would then remove the existing system of politics and replace it with new system that allows us to SMS or telephone our desires. And please, no politician should be paid even a naya paisa for his or her service, protection, blah blah. If he is kidnapped, he should be prepared to die for the nation. Politician should be treated just like a soldier who's been promoted. Not like somebody for whom others have to lay down their lives.

• India
30 Dec 10
excuse me may i know about his contribution to the country, being a prime minister of India for a period of time is not the qualification for bharath ratna. there are many true social workers who completely dedicated their lives for the benefit of others. i suggest them instead of him. note: this is an individual's thought

• India
30 Dec 10
If Indra Gandhi can get it for Emergency and putting innocents behind the bar for opposing her, why not for his good work towards resolving issues with Pakistan and running a goverment with not so good regional parties. Thank You for sharing.