Sadie's view of New Year's eve

United States
December 31, 2010 9:50am CST
This morning I stayed in bed, Mom kept me covered so that it was nice and snug. When natured called and I could no longer keep from going outside, I asked Mom to open the door. Mom is so slow at doing this that I need to ask several times. Well I looked outside and knew there was big trouble out there. It was so cold that as soon as my nose was out I started to shiver all over. But I am brave so out I went. I slipped and slid across the deck and down the steps, then I fell and it took me a long time to get back on my feet, not hurt but just to much ice. The smells were grand, the cold air brought them flooding in. But it's cold so I did my business and tried to run back up the stairs, only to slide down and have to try again, why this caused my parents to laugh I don't know, it was not fun for me. Finally I got back inside and Mom wrapped me in blankets and returned me to bed. I understand tomorrow will be a new start, I sure hope I can get some dignity back it's not good for a hound dog to start the day being cold and laughed at. Happy New Year to All, dogs only, cats don't count.
11 responses

• United States
31 Dec 10
Poor Sadie, I would probably slip down as well, and anyone who sees me will laugh. I hate to tell you, cats do count, they count how many times they get fed, and how many times they can curl up in your lap.

• Romania
1 Jan 11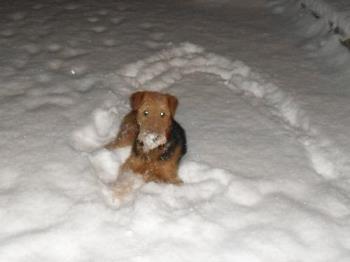 Hi there, Sadie, I don't know how you could embarras yourself this way! A hunting dog being pampered and covered with blankets?

No way! You must gain your dignity back! I love the snow!

I enjoy the smell of the cold air and even if the fringes of snow cover my moustache, I still love to play in the snow. I enjoy especially the fresh snow and I love lying in it, even if Mom don't let me to. Here's a picture of me lying in the fresh snow.


• United States
2 Jan 11
You're an Airedale, that means terror, I mean terrior, you are a true hunter, where as I am just a runner, I run very hard and then I am warn out and must rest to regain my energy. I am a very sensitive girl, I hate when it's hot or cold. Oh alaright I am a wiss. Happy New Year

• Romania
3 Jan 11
Happy New Year to you , too, Sadie. You're right. I am a terror.

This is the name I have between the dog owners from the neighborhood. When they walk their small dogs and they see me, they use to say "here comes the terror!" and they try to run away. But there's no escape

. Everybody must stay to be sniffed. You must be a delicate girl like my Mom's previos girl. She always tells me about Nera, a delicate Airedale who didn't like the cold and the snow as much as I do. I think you should meet me for a play session in the snow, then you'll see how great it is!

You will forget about cold when you'll enjoy our play. So what do you say, will you join me for a play in the snow?

• United States
1 Jan 11
Ahhh..this is delightful. I read with a grin all the way through. Reminds me of having to boot my dogs out the door in cold weather. I've become so well bonded with my dog that I can actually tell what he is thinking (I think) and I know that he knows what I'm thinking or going to do seconds before it's done. Strange? Thanks for a LOL post.

• United States
31 Dec 10
Well Hi Sadie! I'm so sorry you had such a tough morning. At least you were able to get warm and go back to bed. I don't think your Mom and Dad should laugh at you. You could have been hurt. I know you said cats don't count, but we are cats named Star & Luna and we decided to wish you a Happy New Year anyway! Meow~

• United States
31 Dec 10
Ah precious....this reminds me of my wonderful Reggie that has passed. When it was cold he backed right up into the house. But if it was half way warm with a fresh new snowfall..he would instantly go outside and play in the snow...but if it were too cold...buggers...it was like trying to budge a tank into battle! Happy New Years to you too!

• India
31 Dec 10
I think dogs have a natural blanket on their body and it protects them from the attacks of the cold temperature and that is why they survive in this cold world of these days. It is true with many other animals also. I can't remember when the last time I saw a dog having the cold or a running nose due to the cold. I suggest you to take care of yourself from the cold because your dog is much resistant to cold but you are not that much.

• United Kingdom
7 Jan 11
Hi Sadie Gissi here I bet that was no funny, my Mum laughs at me as well when I do things like that just do not realize how badly it damages our Dignity do they I an sure you have got it back though Sadie A very Happy New Year to you as well ............Gissi

• United States
3 Jan 11
Come on Sadie, the cat's should count as well. My kitty cats and my dogs are able to get along very well with each other. We were actually quite lucky when it came to our New Year's Eve because even though it was quite cold during the month of December for us, it went out with a true bang because we were able to enjoy temperatures that were above 60 degrees. Of course that was something that was short lived because it turned around and got more seasonal for us. Happy New Years to you and Savy as well Sadie.

• Australia
3 Jan 11
You poor little thing falling over and being laughed at! It is pretty clear that you are much loved in your household! I don't blame you for preferring to stay snuggled up inside! Here in Australia is very hot and our dog Cassie has dug herself a hole behind the shed...

• Australia
1 Jan 11
hi sadie... :-) i'm so sorry to hear that you have to endure such a nasty experience on new year's eve... i believe that your parents didn't mean that and they didn't laugh at you purposely as well... :-) i bet that you will get your dignity back tomorrow as a hound dog to start a new year... happy new year to you too... take care and have a nice day...

• Puerto Rico
31 Dec 10
That is such a cute story I loved it. Thanks for sharing. We do this with out shih tzu all the time -imagine by the look on his face what he is thinking. I love it because its just too funny. I hope Sadie has a better and warmer morning tomorrow.