His he finished?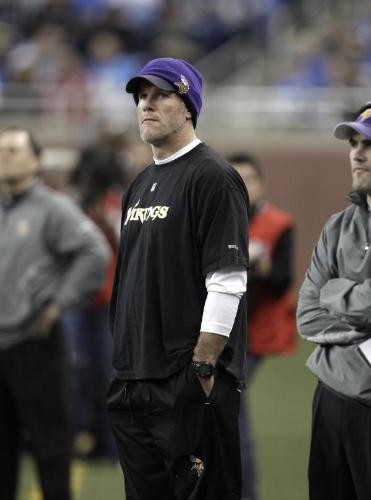 United States
5 responses

• United States
3 Jan 11
Even if he puts in papers, he could still come back.

You just never know with Brett Favre! But I do think this is it. Ending last season with an INT in the NFC Championship game was enough to bring him back. Getting knocked out cold on the hard turf was a wake-up call that he's past his prime. I would love to see Favre come back! I also think he should have retired in 2007.

• United States
5 Jan 11
I know what you mean about should have already retired. At least he got a couple more all time records. That has to be the only reason he kept coming back, especially since he had already beaten the packers.

• United States
11 Jan 11
The dumb &ss should of retired after the 2007 season and stayed retired! Instead he nade an
@ss
out of himself and caused a ton of drama all over the NFL with him not and for coming back so many times! In that SI story his mom wished he had stayed retired after he did tha first time in 2008!

• United States
11 Jan 11
Clearly you hate him packer. After the way the packers treated him I can't believe you would still hold a grudge. The packers were lucky to have him as long as they did.



• United States
5 Jan 11
LOL See ya later gramps.. As a Viking fan, I hope we get a "real" quarterback and a couple of interior offensive lineman. At least for a start. We have great backs but we have crappy blocking.

• United States
11 Jan 11
I am a PAckers fan and I will never like Favre again for what he did to them and the NFL! I hope the old fart retires and stays retired! He has caused to much drama as it is! I can say he life will get worse for awhile! He is getting sued by two former NY Jet Massage Therapists and I wouldn't doubt Jenn Sterger will be going after him,too! The NFL only fined him for not coroporating! I think Favre will be paying out more money in the future!

• United States
3 Jan 11
I'm pretty sure he's done. I mean he hadn't ever missed a game and then he didn't want to take a concussion test so that he could play. He might not of passed the test, but it would show that he wanted to play. At his age he probably doesn't want to deal with the scandal questions and the people telling him he's too old. He doesn't want to play and he's not coming back. ( hopefully ) LOL

• United States
11 Jan 11
I hope Favre doesn't come back! He would be crazy if he did! With the scandel issue it isn't over! Two former NY Jet Massage therapists are suing him and the Jets! Even though Favre was fined $50,000.00 by The Commissioner for not corporating, I expect Jenn Sterger to go after him,too! It looks like thinks are going to get worse for Favre when he retires! LOL!

• United States
11 Jan 11
Be might just be crazy. Who sends pictures of their "junk" to people when they're married?


• United States
11 Jan 11
I'm with you. I won't believe it until it is late August and he isn't in camp.