Why Is the Homeland Security Secretary doing the Secretary of State's job?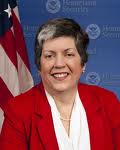 United States
January 3, 2011 3:03pm CST
Lately, Janet Napolitano, the Secretary of Homeland Security, has been popping up overseas, notably in Aghanistan, Yemen, and now Israel. I thought she was supposed to deal with things going on over here in the U.S., and especially with our neighbors, Canada and South America. Isn't that Hillary Clinton's territory that she's tromping around in? And more importantly, why isn't she doing anything about Mexico, and what's going on in our borders? I can't help but feel that the Obama administration is trying out different people for Hillary's job, in case she steps down. I sure hope they don't go with Napolitano, she can't even do her job over here!!
2 responses

• United States
4 Jan 11
Really...do we need her? or her agency?

• United States
4 Jan 11
Unfortunately, we need the agency, but somebody better to run it, lol. Remember 9-11? That's why we have Homeland Security now in this country.


• United States
3 Jan 11
I lived in AZ when Janet was governor and NO, she can't manage her own borders. She is a lousy Homeland Security Sec'y and I feel the country is in danger. She is a person that hides her head in the sand and does nothing but try to keep up appearances. In AZ, she said it was the Fed's responsibility. Well, now SHE's the Fed and still nothing is done!!


They say Mrs. Clinton will be leaving soon. I wonder if she will challenge Mr. Obama in 2012? Oh Lord, the election cycle is about to start all over again. I'm still exhausted from the last round of elections.


• United States
3 Jan 11
This administration in Washington D.C. is bizarre-I guess they encourage people to work outside their job descriptions, or, I think this a trial run to see how Janet does in this capacity-Bill Richardson didn't do well in Korea, and he has now said he doesn't want the job of Secretary of State. I just hope this incompetant nimcompoop doesn't get the job if Hillary bails. There is something about her that is abrasive. That is not a good quality in a Secretary of State, that's for sure!