Have you ever been laughed for being fat? Did you do anything about it?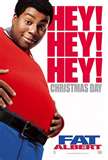 Hong Kong
January 4, 2011 6:57am CST
When I was a high school student, I remember something happened in my grade 9.One day, A fat boy came to me and ask for my opinion during a break time. He said "Wild...do you think fat is a shame? Why did Lee always laugh at me?I was trying to comfort him by saying "oh no,of course not."But before I could open my mouth to say anything, Lee just ran by with a naughty voice saying something behind the fat boy. He said: "NO, fat is not a shame.Fat is a pork....ha ha ha ha" Then Lee just fan away like a horse as the fat boy was chasing after him with an angry face.I cpouln't control my laugh and I still remember this funny incident for the rest of my life until now.Well, I am not sure if you have some funny experience similar to mine or you might have some good opinion and experience that you would like to share about. I respect you weather you are fat or not since i need to loss some weight as well, I certianly understand how it feels when people laugh at you because of your outlook and weight problem.Anyway,It's your turn to share about your experience now.
10 responses

• Philippines
5 Jan 11
No, I am thin and I feel the same with how fats feel. I do believe that if given the chance to choose our body size, we will all choose the best one. Unfortunately, we cannot. Fat people should not be laughed at. It is not their choice.

• Hong Kong
6 Jan 11
Hey Irene. I saw the name Marion Rivera in your picture. Who is this person, is she a popular singer in your country ? Thank you fro your response and I agree with you that if we all have a chioce , we will all choose good body outlook and who wants to be fat anyway?Well, I think it is not noce to laugh at others because of their outlook. You know something, there is a lady who lives in my distrcit and she is a big ugly looking. She always pass by the trian station and take the train to go out to down town. She looks a bit unhappy and withour friends type.She always tried to dress nice in order to attract other people to look at her but since her appearance is not attractive at all and she looks a like a person without any comfident at all. That's why nobody feel like to keep their eye sight on her more than five seconds. Well, I think she needs friends and she needs caring as well. But unfortunately she's also a kind of person seems to looking for love as well. That might scare others men away from her. I think there are jsut so many people like that around us. If we are nice looking people, we have to thank God for that. If not, we can still enjoy our life because of vour valu is in God, not in man. It is good to see the society and our world turns to be aplace of love and acceptance all the times. But since our world is not perfect after man's fall to sin. We then have to accept that any unhappy intercation with others will always be a fact and can't be avoided.Anyway, I hope you can always enjoy your life with your family all the times. Thank you for alays response to my post and have a good day.



• Philippines
6 Jan 11
That is really her! I am more beautiful than her and more sexier! ha ha ha That is why I do not post my picture her in mylot. She is an actress in my country. You are right in your ideas for fat people to be really cared for too just like any ordinary individuals. Enjoy your day too!

• Hong Kong
8 Jan 11
Oh, it will be nice if you can post your picture here so we all can see your beautiful face . But I know ,it is save to post our own picture on the internet, so we can imagine how you really looks based on your comment

.Fta or not is not the major issue and I think we all want a heavy look and respect each other anyway.Have a great day.



• Australia
5 Jan 11
no i never actually... my body weight is always constant all my life... i'm not too fat or too skinny... just right... and i am grateful for that... i can still even wear my clothes that i wore since i was in primary school... :-) can you imagine that??? but i never make fun or insult people who are too fat or thin as well... for me, it is just the wrong thing to do... we are all God's creations and beautiful in His eyes... take care and have a nice day...

• Hong Kong
5 Jan 11
You rae right and we are all God's creation whether we are fat or skinny. I think we all need to live in peace and respect others when someone os different from us either in outlook or anything else. Unfortunnately, our human tendency likes to laugh at things that is funny in our mind.Sometimes , we might not intend to hurt or insult anybody. But it seems to be our natural reaction towrds something or somebody hwo looks funny in our mind. We may not say it out but sometimes can't avoid to show it on our face. Even if we never show it on our face, our mind may still think it that way. Well, I think too skinny or too fat is not a good thing anyway, at leastwe can say that in terms of health issue. It is good to be haelthy and have exercise all the times. It is good to not just focus on the outlook but also the inside being as well. Some people has agreat appearance but when they open their mouth , you would probably stay away from that person immediately. Not because of the bad breathe from that mouth , but because of the bad thing come out from that mouth. As What the Bible said. Whatever a person has inside, he will show it from his mouth. Whether a person is handsome or beauty, when their speech is full of complaint, bitterness, depression, anger, hatre, etc. All these personality will damage all their beauty .Frankly speaking , it is just not match at all. If any Miss. Universe will saying some bad language in the public, her beauty will be nothing.I am not sure about you, but definately it has no meaning for me. It is just a gold ring on a pig nose, it is just doesn't match at all.


• India
5 Jan 11
yes i used to tease my frndz when dey are fat :)


• United States
4 Jan 11

I have been fortunate enough not to have encountered this plight in my life. My troubles have just been the opposite. i was always a skinny child and went through my share of turmoil over it. Weight problems of any kind are not a laughing matter. I have overcome my obstacle. Here's hoping others can as well.

• Malaysia
4 Jan 11
No. People just asked me why I become so fat now coz they see me in a good figure last time.

• Philippines
4 Jan 11
I'm a fat person. I don't remember the times I've been laughed at except for one when I was in the school bus and children were laughing at me. It hurt me and made me mad. Today, I'm still fat but if anyone laughs, I might get offended but I know I can do so much despite my big build. When I was in grade 6, one of our tests was to tumble/roll on the ground during Physical Ed class. No problem, I did it. In college, we had a sprint test and I was partnered with my classmate who's really thin. I just know it that in her mind, she wants and thinks she can take me because I'm fat. When we ran, I was the same speed as her and we finished the sprint at the same time. If I had less baggage, I might have done better. I can say that I am a pretty agile fatty.

I also have at least some muscle, not just fat, and can carry some weights other non-athletic women can't endure. Last year, I tried going to the gym a few times. It was a very affordable gym so it did not have the same facilities as prominent gyms. Last December, I had free passes to a prominent gym and I'd say I enjoy it waaaaay better than the cheaper ones. However, I can't afford the membership there. I still have 7 more days worth of free passes and I'm planning to dedicate some days to use them. I'm not doing this so people would stop laughing at me. I'm doing it for myself, for my health.

Have a nice day!


• India
4 Jan 11
Yes i have been overweight since i was little but people found me cute and chubby when i was young. Although i have lost some weight now i still look fat and people now take a different view. They might laugh when they see me but i just shrug myself and do my work peacefully. Finally they would get tired and just leave me alone that's how i would do it. I live my life as to how i want to live... Cheers!


• Philippines
4 Jan 11
i dont think that being fat is a shame instead i am worry about the health condition :)

• Philippines
4 Jan 11
Greetings, mate :) I am proud to say that I never had an issue of being overweight my entire life despite my appetite. I have always been addicted to exercise, sports and health. I grew up having the problem of being too light. I am not too thin to be called anorexic but, no doubt I am underweight up to now. I still have the problem of gaining weight. I just can't seem to gain weight. My metabolism has been so fast and I am already 20. Strange but, I have been underweight at least 80% of my life. With how things are going, I don't see myself achieving the right weight until I am 24 (if that ever happens).