My daughter is learning to type at school already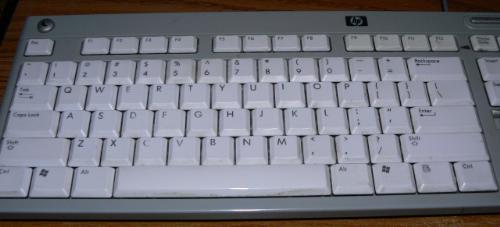 United States
January 4, 2011 3:58pm CST
I found out something today that I thought was really cool. My daughter came home from school and told me that they are learning how to type. They are teaching the kids to keep there thumbs by the space bar and taught them asdf so far I believe is what she said. She is 6 and in first grade. When I was in school they didnt teach us the correct way to type until we were in 9th or 10th grade. I had been typing so much on the computer though since I was young that I knew where all the keys were just from typing so much. I never actually leared to do it the way the teacher wanted us to. I could type faster doing it my own way that I had always done. I think the fact that they are teaching the kids to type in 1st grade now instead of waiting until 10th grade is pretty amazing. Kids are proving how much more they can learn if given the opportunity. My daughter is very smart I think she will learn to type very quickly. She uses my computer to play games a lot and to write her cousin emails.
6 responses

• Canada
7 Jan 11
Although I think this will seriously hamper the kids' ability to learn to write long hand, I do believe that this would still be beneficial in long run. Every day, new and newer technological gadgets are put out, and the QWERTY keys have become standard. So, if kids learn it early, then they are already ahead.
As compared to my two-finger-chicken-peck way of typing!


• United States
7 Jan 11
LOL my dad does the two pointer finger typing. He is so slow at typing but then hes never really been on a computer very often. They only have computer class once a week for maybe an hour so I dont think it will hurt their ability to write long hand. Because the rest of the day and the rest of the days they are writing on paper with a pencil. My daughter has very nice handwriting.

• Bhubaneswar, India
5 Jan 11
Hi Shaggin, Wow First grade. Changes are so very fast. It was not until I passed out graduation in 1994 that I got to see a computer here (I am from India). Today, we have computers from standard 3 and they still dont teach you to type before standard 6. I think the education systems keep upgrading themselves for good and it is great. On the lighter side - if your daughter kept the computer busy - sooner she can assist you at mylot and other things you do at your pc. (One of my friends mentioned that her daughter about 10 assisted her in her designs)

• United States
5 Jan 11
I think its awesome how much earlier they are preparing kids for life now. Technology is huge and its good to get kids started with it and get them ready for the world. When I was young we only played computer games like math munchers and oregon trail. They never taught us to type in elementary school. I'm really impressed with the school doing this now.

• United States
4 Jan 11
Well obvisouly i am younger then you since you didnt learn to type till 10th grade, i was learning in 6th and 7th grade in computer class. It was a manadatory class to take and it actually was a great class as i learned so much in that class. It was one of my favorite. Im glad to have taken it was my typing has growne and it is really good now. I beleive taking typing class or computer class is a great thing and to learn it even earlier is also really good. They can do there own projects on the computer and even book reports on the computer without having to have there parents there to do there work for them. I think it is a great idea and i know they might need help doing there typing on the computer but they are learning everything earlier and when they get to high school they would have learned everything we did but when they reach highschool they will be learning new things that we didnt since there will be all new things to know and things to do.

• United States
4 Jan 11
I dont know if you are younger then me or not. I am 27. My friend who is a year younger then me but lived in NY said she had to learn typing like I did in 10th grade but she had to learn that in 2nd grade. So I think it really just depends on the school that you go to on what they teach and when they teach it.

• Canada
10 Jan 11
The computer is the reason WHY they are teaching kids to type. Their spelling, on the other hand, is terrible. Teachers also know that with using the computer as kids get older and even into adulthood....there is always spell-check. UGH!

• United States
11 Jan 11
I dont have spell check on my computer. Somehow I had turned it off on my email programs and I couldnt figure out how to put it back on so I'm stuck without it. I dont spell to badly but sometimes it would be nice to correct any of the words I make a mistake on. The only time I use a spell check is when I use a free online spell check website when I have something important that I need to spell correctly. My daughter is a good speller. She does so good on her spelling tests each week. When I was her age I was a horrible speller!


• United States
4 Jan 11
Well 4th grade was still better then my school that didnt teach the correct way to type until 9th or 10th grade. That seems so old to me now. I think its wonderful that they are teaching the kids so young how to type. Like you said with how much more technology there is out there its wonderful that they are getting the kids caught up so they are more ready for the world.