New Discoveries at San Jacinto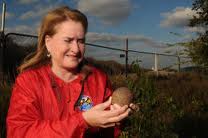 United States
January 5, 2011 11:50am CST
Recent diggings have unearthed proof that the Battle of Jacinto was bigger than previously believed. Relics, including a cannonball from the "Twin Sisters", were discovered more than a mile from the San Jacinto Monument. I love it when more of the truth of history is uncovered.
1 response

• Philippines
5 Jan 11
That's what makes history very interesting and archeology an ever changing science, something always gets dug up, you know like solving a puzzle using different pieces and putting them together to paint an accurate picture of the bigger picture and it goes on and on. Anyway from what little I know about the battle of San Jacinto, it was fought by Generals Houston and the Mexican Sta.Ana, and placed Texas in the U.S. map instead of Mexico's, I'm more familiar with the Alamo because more films and documentaries were made about that famous battle...


• United States
6 Jan 11
If you like to read history, the story of the battle at San Jacinto is fascinating. Houston had been retreating in what is called the Runaway Scrape until an opportunity presented itself and he won a decisive battle in less than half an hour!

• Philippines
6 Jan 11
Yes sir, you already got me interested so I'm doing some readings now, so nice to run into somebody very interested in the history of his own place