I still prefer to wear watch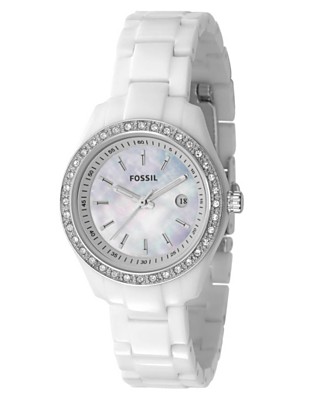 January 6, 2011 2:11am CST
Well time is more important than anything else in a day. We make sure that we eat on time, we went to work on time and we went home on time. We start and end the day by looking at our watch. So it is very helpful. We use it more often than we speak. If your in fashion theres a good choice to wear, even in sports, parties. In any occasion we want it to wear. Right now im wearing this white watch on my wrist. Its look like very casual. I can use it in any occasions. How about you? How many watches do you have? What brand? Good day! God bless!
7 responses

• Philippines
18 Jan 11
I don't really buy watches, i just wait for my aunts or friends to give me one. I am the type of person who doesn't wear any jewelry, not even a watch. I only wear one when i go on duty as a volunteer nurse or when i have worked in a hospital before. A watch is really important for nurses especially when getting patient's vital signs. I know it's very important to have one but i sometimes feel uncomfortable wearing something in my wrist. So what i use to check the time is my phone or when im in front of the computer i only check the time on my computer.

•
21 Jan 11
Right now I am also using white crystal watch. Only one because I can't afford to buy so many things since there's a lot more things to paid for. I can say I'm satisfied on my watch right now and I can move whenever since it was my need second to my cellphone. I never experience that my relatives and friends gave ma a watch. Only my boyfriend and my family gave me one. Good day! God bless!

• United States
9 Jan 11
I think that the last time that I owned a watch was when I was in college and at that time I didn't even like wearing a watch at all. That said, right now in order to keep track of time I use my cellular phone all the time for both my phone necessities and I also use it all the time for my time telling abilities as well. I feel like using my phone as my way of knowing what time it is is a lot less invasive for me.

•
21 Jan 11
We have a different thoughts about wearing watch on my wrist. Me, I cant move and I cant do y things without my watch. I can say that there's something missing when I don't wear or forgot my watch. Cellular phones are also very useful. You can also use it as your watch and also a good phone. Since grade school up to now Im using watch all the time. Good day! God bless!

• Philippines
8 Jan 11
I have about 10, I think. But I only semi-regularly use five of them. The one that I use the most is my white Baby G poison watch. It gets pretty dirty though, but I like it because it's digital so when I'm at work, One glance and I can get my time. I have another digital Casio watch. I like this one because it has a metal bracelet, like a dress watch but it's digital. My other watch is a purple Timex. It's actually a kid's watch, but it's so cute because of the animated flowers. It's really hard to use though, it's digital but in an analogue format and when I move my arm, the clock wipes its face away then comes back after about 5 seconds. I barely use that one. The other one is a two-toned Guess. It's purple, but sometimes it turns turquoise. I mostly use it when I'm not at work though since I prefer using digital watches at work. My newest one is my favorite right now, although I don't use it so much at work since it's not digital. It's a Roxy swap pack that I bought for myself on Christmas. It's pretty cool because I can switch the bracelet around. It comes with two reversible bracelets, so it totals to four bracelets. I'm not really sure what my other watches are since I almost never use them. They're mostly gifts from years back that I still keep.

•
21 Jan 11
Wow you had a lots of watch. Wish I have them too. Its sounds like its pretty cool and very fashionable. You can use each one of them depend on the occasion and I think it is in different colors and style. You are so good. I am now loving it. Watches are very useful and not just an ordinary accessory but a watch. I never used any of the digital watches. I still prefer to use the ordinary one. May be if I'm so busy and have no time for everything so I must used the same as what you are doing. Good day! God bless!

• United States
6 Jan 11
I don't wear a watch. I just use the clock on my cellphone. I am allergic to metal, so I just break out whenever I wear one. Plus I hate it because you have to take it off whenever you wash your hands or are going near water. I don't know. Watches just seem like a hassle to me.

•
20 Jan 11
So you must try the rubber type of water and water proof. It will cost much but I know you will be satisfied for that. But if you really don't want to use a watch so just go to the cellphone clock that you are using. I think it depends on the metal you are going to use. try to use a branded watch so you are more sure about that. Good day! God bless!


•
20 Jan 11
Right now I also have 1 watch and I posted in the this discussion. Its a color white with crystal design watch. I love wearing it and so far I think its one of the best watch I used. Its a very chic, cool watch. I can wear it everywhere I go. Good day! God bless!

• Philippines
6 Jan 11
I have only 1 watch and I always wear it wherever I go. Actually, I've used this watch for 8 years and yet, it is still working and it looks like it was still new. Its brand name is "Wenger". A swiss made watch given to me by my uncle. Time is really precious to us people.

•
20 Jan 11
Its a very good watch I've ever heard. 8 years of life is a longest time in having the same watch as ever. About my watches I always wanted something new each year I think. I need watch and besides its a very useful accessories too. I bought my watch for myself. Just for myself and sometimes from my boyfriend. Good day! God bless!

• Philippines
6 Jan 11
Well, I used to wear a watch years before, but unluckily it got busted and broken. So, I had to wait to buy a new one. Luckily, my father bought me a watch this Christmas. So, I wear one most of the time now, and it is actually a must now because of duties in the hospital.

•
20 Jan 11
Me too I prefer to wear watch every time I went out. Time is very important and we can't do many things without a watch. Its a very useful accessories that needs in a daily life. I can say that my day is not really perfect without a watch. I feel not comfortable and missing something. Good day! God bless!