The Republican Party should think twice before repealling Healthcare Reform!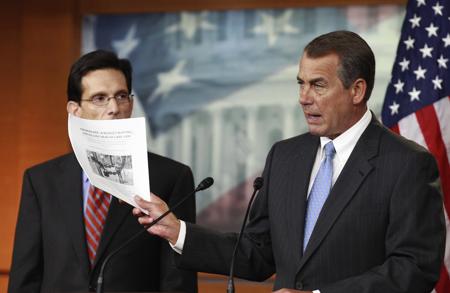 United States
January 9, 2011 9:36pm CST
The Republican's say they want to repeal healthcare reform! Let's get real, they don't want to repeal health care reform! They want to eliminate health care all together. How many of these Republicans who want to repeal what they call "Obama Care" are willing to give up their contributions from the wealthy Pharmaceutical companies and health care industry? (The United States is the only Industrialized nation in the world that doesn't have some type of health care for all of their citizens.) Those Senators and Representatives who say they want to save the taxpayers money by repealling health care reform should publicly announce that they will no longer use the Health care plan that is provided to them at the expense of the American Taxpayer. Put your money where your mouth is! In other words: PUT UP OR SHUT UP!
7 responses

• United States
10 Jan 11
I wonder. Have you actually read the 2000 page health care bill? That's longer than a good Tom Clancy novel. It has some good stuff but it has some very, very bad items in it. By no means does the good outweigh the bad. President Obama can't even begin to keep his promise about keeping costs down. It is a blatant lie compounded every time he says it. I guess he thinks if he says it enough, people will actually believe it even though their costs are shooting through the roof. Apparently, some are still swallowing the kool-aid without looking at the actual facts. Health care reform done right can keep costs down and there are some health care systems in the US that do work. This health care bill is a shinning example of how NOT to fix health care.

• United States
10 Jan 11
Has your healthcare insurer promised to KEEP your policy rates DOWN, when?? Why didn't republicans offer any 21st Cent. legislative bills that would address healthcare reforms when they ruled the roost?? I tell ya why .. because "they" enjoy big business getting outrageously paid while WE THE PEOPLE suffer!!

• United States
10 Jan 11
They did. It just got ignored in the face of WE THE GOVERNMENT who want to run every aspect of your life and make all of your important decisions for you. One of the biggest changes the Republicans wanted to make that would have had an almost immediate impact on health care costs and reduce many of the costs was Torte reform. Other ideas such as Health savings plans (which took a heavy hit in this law) would have made it possible for people to save for their future health care costs without having to completely rely on Medicare or Medicaid to pay for costs. There were many other valid ideas presented by doctors, hospitals, and other medical personal that were completely ignored. The fact is without price controls to back-up the health care bill, it cannot keep costs down. If you don't believe me, do your own research into the socialized medicines of the UK, Japan, Germany, and whoever else you believe has great health care. They all implement some kind of price control program with the government. Because without them, the bill fails. In point of fact, the bill failed the instant Congress exempted themselves because the bill requires everyone to pay into the system. What is really bad is that you are swallowing all the kool-aid without doing independent research on the subject.

• United States
10 Jan 11
Many U.S. states have long since passed their own "tort reform" legislations. Reportedly, many of those same states have seen their healthcare costs climb! Republicans claimed tort reform was an easy and necessary way to bring down costs to All Americans .. really!! An article written by Stephen Koff, The Plain Dealer
@
Cleveland.com informs that Ohio is one of those states who indeed passed tort reforms and that those reforms have not lowered healthcare costs. People should not be denied their right to sue for malpractice .. to have their day in court. There will always be junk lawsuits .. baseless lawsuits that should not take away the right of people to petition the courts. Republicans are not interested in legal protections for the people ... they are solely focused on protections of those who would harm the people!!


• United States
10 Jan 11
first of all, I agree congress should give up their health care. No argument there. But your statement The United States is the only Industrialized nation in the world that doesn't have some type of health care for all of their citizens I have to ask - why do you suppose so many people break in here? Because there are a lot of people that understand sometimes you have to take care of yourself, family, friends and neighbors. Some people dont depend on their government to care for them, feed them, house them etc.

• United States
11 Jan 11
really? Anybody who receives welfare, food stamps, medicaid, hud, and any other various entitlement programs. http://www.cato.org/pub_display.php?pub_id=8225 http://moneymorning.com/2010/09/20/budget-deficit-2/ http://forums.hornfans.com/php/wwwthreads/showflat.php?Cat=&Board=westmall&Number=6255888&page=&view=&sb=&o=&fpart=&vc=1 http://online.wsj.com/article/SB10001424052748703791804575439732358241708.html That should get you started

• United States
10 Jan 11
..Hi there flpoolbum, I have never seen such an uncaring bunch of people in my life. They are fine and dandy with their own government subsidized health care. How many of them would forfeit it in the name of honesty? Don't ask, they won't tell. Forty years sitting waiting and we finally got some sort of health care for a lot more people. Now they want to repeal that which still needs tweaking. I hope that they make themselves extinct by trying to take away seniors lessened cost of medicine, the parents ability to keep their children on their policies until age 26, and other benefical things. Thousands if not more businesses are now able to afford health care for their employees because of the credit being allowed. I hope the country turns on them with their crazy brains. Typical of the GOP leadership is the two Congressmen who raised their hands to be sworn in, in front of a television set and then went and voted eight times in a session without legally being Congressmen. What a joke. Cheers.

• United States
10 Jan 11
I don't want the whole bill repealed. But I do want the mandate gotten rid of. If they just get rid of that...then I would be fine with the rest of the bill. We do need to stop the insurance companies to stop using the pre-existing clause. We do need kids to be able to say on their insurance until they get out of college AND get a chance to get their feet under them in the real world. The mandate was teh only thing I had a big problem with. I think it is the only part MOST people that are against it don't like. So instead of repealing the whole thing...just take the mandate out and that should take care of it.

• United States
10 Jan 11
For the most part lilwonders I agree with what you've said. However, it is my understanding of the bill that those people who can ill-afford to pay will be subsidized .. anyone who cannot pay will be helped. The mandate is to insure everyone coverages ... the insurance companies were charging you, me, everybody who had coverage for those folks who entered emergency rooms at hospitals .. we were/are paying high costs for folks with no coverage anyway. If millionairs/billionairs are given such handsome tax breaks, why can't those who can ill-afford healthcare be subsidized! For those reasons, I have no problems with the mandate part.

• United States
16 Jan 11
Well personally I think it is time they start wanting to offer more to the American people in the way of Health Care instead of wanting to take away from it. We here in WA state have seen a Governor who says she is a Democrat but wanting to cut Medical care for the Needy, and here if you are on Medicare they make you get a suppliment to that or you cannot see most Doctors. So really in reality I think it is time people wake up and want to continue to help others needing Medical care before we see a major crisis on our hands of people dying from things like a Cut, or a broken bone that would have maybe only taken minutes and a possible cast or antibiotic to fix. No, everything about Obama's Health Care plan may not be the Best solution and could end up costing some people a lot of $$, it is still something that I feel is a better step in the right direction for sure.

• Belgium
10 Jan 11
I think the health care plan of Obama was very good. It was really just like Europ. And Europ has the best health care system in the world.

• United States
10 Jan 11
This Health Care Reform ignored what the people wanted it should either be changed to fit for a Public Option or it should be repealed and allowed for a Public Option to take over. I live in a state that offers Health Insurance through the state which is well not that great you need a doctor to sign off on everything. Also they don't cover somethings that normal insurance companies do. The best solution to the prices of Health Insurance coverage come from supporting a growth in Non-Profit Health Insurance Companies as this will increase the number covered and lower the price of the services that are given by largely For Profit Hospitals. See as right now hospitals have to cover for the good number of people they are required by law to give medical treatment to knowing that most won't have insurance or the money to cover some of their operations. Also Paramedic companies have to do the same thing mark up prices for services to cover for people they give service to who can't pay for it. In Japan which doesn't have a state ran Health Insurance program it would cost you with no insurance $75 dollars for an MRI.