Deep Fried Turkey or Roasted Turkey?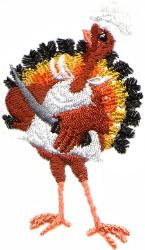 United States
November 18, 2006 7:04pm CST
what do you think tast better deep fried or roasted turkey?
8 responses

• Denmark
19 Nov 06
Deep fried turkey? Never heard about it before, so I can't tell you which I prefer. Do you make it yourself or is it something I can buy? Would like to try it...

• Denmark
19 Nov 06
Wow... That must be a huge deep frier... A turkey is a pretty big animal!?

• United States
19 Nov 06
I love roasted turkey. It just tastes better. But, if you are in a rush the deep fried turkey is great! There are rubs and flavors you can inject into the turkey prior to cooking that enhance the flavor too. Even so, I am old school and there is nothing like the smell of a turkey roasting in the oven.

• United States
19 Nov 06
Honestly, I have never had deep fried turkey. We have always roasted ours. But, I may try that sometime now, it sounds like it would taste pretty darn good!

• Canada
19 Nov 06
Roasted. Deep fried is too fatty and can really hurt your health. Roasted tastes good anyway!



• United States
19 Nov 06
Our turkey is always roasted but I've heard fried are very good too!!