My very first painting.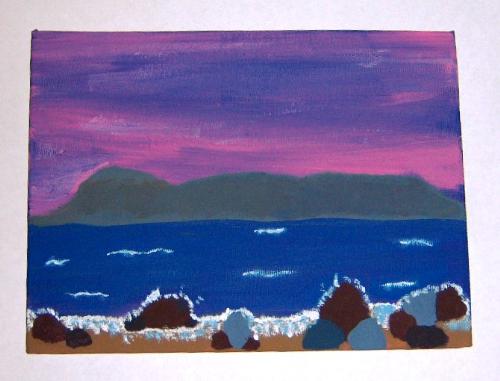 Canada
January 10, 2011 12:13pm CST
Recently I had decided to crack out the paints and try to paint something. I had painted before but nothing like what I was about to do. Beforehand I had painted ornaments, or pictures that were simple and usually kid friendly. I took on a challenge and decided to paint the Sleeping Giant. The sleeping giant is found in Thunder Bay Ontario. This is a large almost mountain type rock that is in the middle of Lake Superior. You can see it from almost anywhere in Thunder Bay, as the city is all along the shore of the lake. I am not finished yet and have a lot more details to fix up. It looks great (I think) for a first time scenery painting. I only used dollar store paints nothing fancy. I think if i was using water color or oil paints that I would have been able to give the picture more texture. I did this all from memory as I used to live in Thunder Bay for 20 years. Next one I paint I am going to use one of my photos that I took on my last trip up to visit. Going to try and make a exact replica of my photo into a painting. I posted a picture in this tab of the not completed painting. Let me know what you think. Remember that it is unfinished, so comments will hopefully help me do a better job and get it completed. Please google the Sleeping Giant so you have a rough idea of what I was trying to paint.
5 responses

• United States
10 Jan 11
I used to be pretty good at painting in school but never got around to doing anything afterwards. Good or bad, I envy you for trying and I hope it works out to your satisfaction. I have to be content with painting walls and ceilings!

• Canada
10 Jan 11
Thanks! If you were great at it in the past maybe you should take it up again?


• Canada
10 Jan 11
I sure did have fun. It turned out not bad for my first try so that was exciting. Makes me want to try painting more scenery. I think next time I want to try something a little more basic until I get some better supplies. The water was very hard to do I have to re do it because I don't like how it turned out. But who knows I might just leave it as it is, and start a fresh one.

• United States
20 Jun 11
Great painting. I love to paint myself and just wish I had the time to do so. I usually paint ornaments, but between school and remodeling the house I just have not had a lot of time. I am hoping that my next class will be easier so I can get things done. I want to make homemade gifts for Christmas and want to start soon. I want to make a Hello Kitty blanket and pillow set for my niece. I think after this summer I will get started on painting again. My most difficult course will end this week then I can start painting the house. The bathrooms will take a couple of days to paint and the kitchen will really be chore to do.

• Philippines
26 Feb 11
don't worry if it won't look too good. you could always label it as an abstract painting. lol. anyway, i tried painting too. but that was way back in grade school. i only painted sceneries since we were required to. however, i got to use this "talent" way up to college for other class projects, and even for personal purposes. somehow i developed some kind of creativity, and i think it was because of that little painting project several years back.

• United States
25 Jan 11
What kind of paint DID you use? I use Acrylic. Oils are so messy and take so long to dry, so if you mess up it can be days before you can paint over it. They do have the best color, though, and are easy to blend. I could never really master watercolors, beyond doing little cutsey doodle-type stuff. Tempera is just the bottom of the pile, though. It's what they use in grade school because it's cheap. I like Acrylic because of it's ease of use. The fast-drying time can be annoying when trying to blend colors, but it's also useful because you can go over the same spot again and again until it looks right. And you can water it down easily. It also chips off my table and floor easily. I'm a messy painter. Anyways, that's great for being essentially a first-time painting that is done by memory and with cheap paints. Kudos, my friend. I can't paint anything from memory, aside from things I've made-up. I definitely couldn't do that without a reference photo.