Does this "violent imagery" really make you want to get a gun and kill people?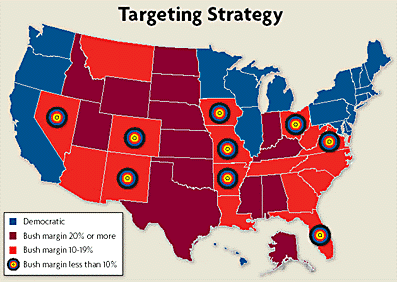 United States
January 13, 2011 7:10pm CST
I keep hearing people on the left screaming and ranting about "violent imagery". Some democrats in congress are even using the deaths of innocent people to push their anti-1st amendment bills to ban freedom of expression if it involves imagery that they find offensive. Is this map really that violent? Do you really think looking at this map could "set someone off"? Am I potentially putting innocent lives in danger by posting this on mylot? Or do people really need to get over themselves and quit using crap like this to pretend that anyone but the criminal is responsible for his actions?
7 responses

• United States
14 Jan 11
Hopefully, we get sane responses to "violent imagery" and to your question. Unfortunately, we may get a very different response of same "violent imagery" from the criminally insane. It depends upon who we're asking, the sane or the insane!


• Boston, Massachusetts
14 Jan 11
The funny thing is that just a moment ago, I remarked to someone "aren't we settng a terrible example if we say 'if I say something bad and you do something bad because you heard me, it's not your fault, it's mine'. Isn't that really going to affect the state of the world for worse rather than better?" We're not going to improve the world by removing personal responsibility. The ide that anyone will run out and kill because someone on tv used the usual military metaphors that are commonly used to describe political fights. Even the very word "campaign" is a military term. There's a good reason for this - politics now decides what battles, wars and conquest once did. Political battles replace physical battles to decide who is in charge. Therefore, these metaphors have been used a very long time, at least as long as this country has existed. The only difference is that these days, finding a scapegoat to blame is the number one priority, not personal responsibility

• United States
14 Jan 11
You're right, if anyone was saying that it would be setting a terrible example. You're also right that we're not going to improve the world by removing personal responsibility. The thing is, it goes both ways, words and actions have meanings and consequences. Doesn't it mean a thing that Gaby herself had said these actions have consequences? Annie



• United States
25 Jan 11
People really need to get over themselves... and the loony left should just shut up as they have nothing useful or of any value to say. The individual is the only one responsible for their actions.


• United States
15 Jan 11
In my opinion...it is the criminal. We can't blame crimes on images like this or even weapons. People decide to hurt other people. When it is a choice..people have to be responsible for them. The mental health community may argue. They may say that this map along with this message along with childhood abuse along with...well...you get the picture..but when do we start holding the criminals responsible? There are cycles but in my opinion the cycles either continues or ends with a choice. I think Vonmac was right on in saying that anything can set people off in this day and time but if I write a sentence that means one thing and someone makes it their own by twisting it around..it's not my fault what they make it.

• United States
14 Jan 11
Ok...this is how I see it. Just my opinion...but I don't see anything wrong with it. You know why? Because it was a "battle plan" or "goal plan". People use that kind of thing all the time. For example: 1.A business man will "target" areas of his business that are not cost effect or showing poor profits. That means he is going to concentrate on those areas to try to improve them. Not that he is going to kill anyone. 2. A politican will "target" key states, demographics, or populations in their elections. That means they want special attention paid in those areas because they need those state, demographic or population to vote for him or her to win. That means those areas will be concentrated on for commericals, volunteer efforts, endorsements, rallies....once again...NOT going out to kill people. 3. Government programs are "targeted" at speific groups. SSI...is targeted at older people. Welfare is "targeted" for the poor. Aimed at...meant for...focused on...still not about killing people. 4. Commericals "target" kids...does that mean the toy company is killing kids? Nope it means that they want to focus on getting kids to want their toys. So if I can see this as a what it was...a map showing the areas that needed to be concentrated on (according to Palin) in the next election...and that nothing lethal was meant....then why can't anyone else? I think some people are overly sensitive, or just looking for something to complain about because it was Palin. I am not a fan of hers....but I will say she gets dumped on irrationally by more people than most political figures.