Skyscraper heels, between the advanced and burlesque...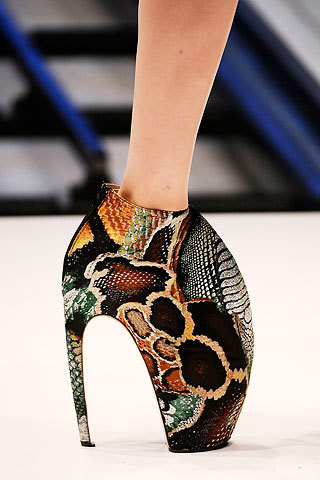 Romania
January 14, 2011 7:22am CST
More recently, admiring the catwalk extravagant shoes with heels to propel the models to new heights. Frankly, my admiration goes to them, because it is not easy to walk right,given that your feet is 15 inches above the ground. Given the dangers of high-heeled shoes,which include pressure and column,knees or hips, you agree to wearing such high heels? You like?
4 responses

• Romania
14 Jan 11
I think high heels are very elegant and I really like them, but I don't wear them more than once a year, because I cherish my comfort (and they wouldn't suit my style of dress anyway). Also, because I'm not used to them, there'd be a high risk for me to trip and maybe break something, and I wouldn't like that to happen. But it's nice to wear them for (very) special occasions :).

•
14 Jan 11
I love heels but I cant wear them

you see I broke my leg really badly 8 years ago, and have issues with my leg.. I had to be in plaster for a whole year, its still party broken and I have no bone in the lower part of my lower leg, so I have to stick with flats! I admire people that wear high shoes just because they can be difficult to walk in and especially now they are reaching new heights!

• Philippines
20 Feb 11
that shoes is from Alexander McQueen's Spring-Summer 2010 collection.they're called Armadillo heels.they look like lobster's claws.seriously,I love shoes,but I wouldn't wear them.they may have platforms,but I'm not really a fan of the design.it looks costume-y to me.I would rather buy a nice pair of Mary Jane flats than those heels.

• United States
19 Feb 11
Honestly the heels in that picture are so ugly. I dont think they are pretty at all. I cant imagine anyone besides maybe lady gaga actually wearing anything like that. I pray that none of those models fall with a pair of those heels on because I imagine they would break their ankles.