I Was Happy!!!

United States
January 16, 2011 4:08pm CST
Last night my son's grandfather called and took my son for the night. I decided that I did not want to sit at the house, so a friend and I got togehter. We really didn't do much;we had a few drinks, we talked, we laughed. Most of all we enjoed ourselves, and I had a clear mind with no hurt, no pain.

I had do much fun, and for once in a very long time I was able to laugh and smile without worry and without stress. I was able to enjoy myself, even not really doing a lotl.

If you have ever experienced unhappiness before, you can understand where I am coming from. For the last 7 years of my life I have been a miserable being, and this is the first sign of true carefree happiness I have had in a long time.

If you have been unhappy for a very long time, what is your first memory of finding happiness again? What makes you the happiest in life? How do you define happiness?
10 responses

• Canada
17 Jan 11
It makes me smile (and happy inside

) that you found a little happiness at such a simple thing. I know other people take things like this for granted, but from knowing a little bit of you, I could certainly appreciate how 'different' this must have been. And it gives me hope that even if you(or me) have gone through some miserable time in our lives, there is always something positive down the road.
I have defined when and where my happiness would happen. It hasn't come yet, but I promised myself I would dance a little jig when it does. I might even post a discussion about it here when it finally happens.


• Philippines
17 Jan 11
greetings! wow, to finally say that after 7 years of being miserable sounds like a big accomplishment! and i'm happy for you! :) i'm not sure if i can relate since although i'm unhappy at times, there's never a day that i don't find something to smile about. i encounter challenges on a daily basis, that even waking up becomes a chore, but at the end of the day, there's always something to be thankful for. i really hope that you can relive that same happiness more often. enjoy your day! :)

• United States
19 Jan 11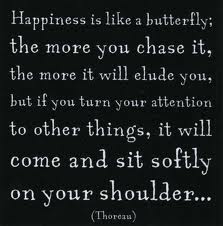 Thank you so much!!

I can say that it is a truly wonderful feeling to know that somewhere in me there is still some happiness, despite all of the BS I have been through. I can relate to waht you are sating.Before this I had experienced times of being unhappy, but this 7 years that I am talking about were truly miserable times, no happy moments, no smiles, no laughs, none that were true anyway.

I really gives me hope for tomorrow and there have been times that I thought I was doomed for life.

I know that there will be plenty og happiness in my future.Thanks again!

• United States
17 Jan 11
I have been depressed for 5 or 6 years, and I'lll have to say my smiles and laughter came back on a regular basis when my daughter had her first child, my grand baby boy. He's a great light in my life, and I thank God for him.

• United States
17 Jan 11
I have come to believe that my happiness comes as a choice. It is from inside of me. There are many things I enjoy, my family, my crafts, writing, etc. I am pleased for you that you got to be carefree and enjoy yourself last night It is very healthy to have friends and to laugh and relax. I am also happy for your son. He needs to have adults who love and care for him, whether it is dad, or grandparents or uncles or friends. I hope 2011 continues to be looking up for you.

• United States
19 Jan 11
Once you have been in an abusive relationship that is so much easier said than done. Every single day of my life I pray I can find happiness. I can remember in days of past waking up just hoping I would be o.jk.for the day. I know he really needs a male in his life, and though it isnt his daddyu it is still family and I am glad he got to go see them and his brother.Family is always important to me, and it is just me and Erik for the most part.

• United States
17 Jan 11
When I read your title and saw your avatar next to it I smiled greatly. I am so glad you did that as you are, from all the discussions thus far I have read a very good mother. Simply doing all you can and beyond to provide and take care of your son. So I am glad that a night filled with laughter and stress free was finally your time. I do know this feeling well as I have been a single parent for a very long time, facing so many bumps along the way, but always prioritizing my children. I am so happy for you and proud to know you here on myLot.


• United States
17 Jan 11
Hi hardworkinggurl!!

I am not the best mother in the world, but I am working on it. My ex did a number on me, that's for sure. I have been waiting so long just to be able to laugh and smile again, and to truly feel that I was happy, and I finally did. I am working through so much right now. My kids makes me happy, without a question, but at the same time I feel that I need to have some sort of life too. It is hard being a single parent, but we figure out a way to do what we gotta do.But when your happiness is taken from you, it causes so much more struggle to that, and being able to say that I had funa nd was happy for a change meant so much to me.


• United States
16 Jan 11
Well there are times in our lives when situations happen that are often beyond our control and depending on how we choose to deal with them can become depressing and stress us out. I know many times that it is really on how you learn to deal with them, and the choices you make surrounding that that counts. If you are unhappy but then due to someone taking your son for the night so you can get out made you Happy maybe it is time you think of ways you can do this more often. Maybe find someone who can cheaply watch your Son just for you to have some you time with some friends. I think a lot of your sadness could be from not getting time to be around others and always having to focus on your son. Your main thing here sounds like you need to develop a form of balance and then concentrate on everything more from there. Wishing you the Best.

• United States
19 Jan 11
As you know, the 7 years that I am talking about was the time that I was in an abusive relationship. I am not sure how I could have dealt with any of the things that I was going through. I had depression, anxiety, and PTSD. And it became a way of life foe me, all that I knew. It was not the fact that someone took my son that made me happy. But, unlike usual, I decided to do something rather that sit around,thinking or working. I feel that we all need and deserve a break every now and again. I am perfectly content being with him 99% of the time, but it just meant a lot that I chose to finally do something other than sit around and when I did it I was able to laugh and smile without reservation. I need a lot of things right now! It is hard to get over abuse as such that I went through, but that gives me hope that one day I will be one who is free of the pain and hurt that this man caused to me, and that is what I want more than anything else in thie world.

• United States
16 Jan 11
My happiness comes from my family....being with them especially my little granddaughters.....she is so much fun! The only time I had a long stretch of unhappiness was when I was married and the marriage was falling apart....after I got a divorce no matter what I had to go throught it was better then being married to my ex. I am happy most days...happiness to me is the feeling of contentment...security...and being loved.

• United States
17 Jan 11
I am finally at the point of no matter what it is better than being around that SOB, but I can say that it has not been an easy process by any means. Guess I am just to caring of a person. It is just me and my kids, but I am taking every step that I can to find the happiness that I lost for so long. I am so happy to hear that you get such wonderful enjoyment from your family, especially the little ones. They are such a great joy to this world that everyone should treasure.

• Indonesia
18 Jan 11
Happy or not, I do not know. I can not define happiness. because, whenever I feel happy, I also felt sadness. pure happiness never come to me. However, that can make me happy, joking with my friends, had long since I could not meet, and joked with my friends. I really miss them.

• United States
22 Jan 11
Why do you think you are so unhappy? I have come to learn that life is to short to be sad and miserable all of the time. I am doing everything in my power to live my life as happy as possible, with what I have. I have no family, no friends, but I do have my children, and that is the most important thing in the world. I will find my happiness, and I hope that you are able to find it as well.

• Indonesia
23 Jan 11
I really wish I could find my happiness. My son is the only source of my happiness. But it also makes me sad sometimes, when I could not be a good mother to my child. So far, no one could I give to my children, except take my child to be concerned with the circumstances of his parents, and this is very sad for me.

• United States
19 Jan 11
It is so good to hear that you were able to kick back and have a good time for a change. Heaven knows that you needed it. For me, I feel like for the majority of my life that I've been lucky because I haven't been through extended periods of unhappiness. The longest depression that I've ever been through in my life was when I was a teenager and my father passed away. After that, I think it took about two years before I was able to say that I truly felt happiness. I truly felt happiness again for the first time at a youth conference that I attended with my youth group in Steubenville, OH.

• United States
22 Jan 11
Yes, I really needed it. My life has been just stress for so many years. I may have smiled or laughed but it was not true happiness. I am still working on it, but I feel that once I am settled once again it will help me a lot. Being happy is something that I think we all take fro granted. It is one of those things that you just do not realize how valuable and how precious it is until you do not have it any longer. I am glad that you have lived the majority of your life happy, and I hope that you can continue to do so.

• United Kingdom
29 Jan 11
Happiness and relief when I split from Ex Husband but I had a long way to go and I found a wonderful Man who helped with my Children walking the Road to really being me which I am now, I am not scared any more, I do still have a bit of fear of People but not as bad as I was, I get respect, I do not get hurt physically or mentally and I am aloud to just be me