Chinese New Year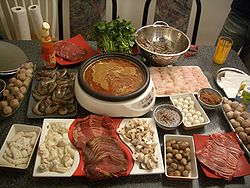 Singapore
January 16, 2011 7:21pm CST
Chinese New Year is just round the corner. Having a steamboat meal for the Chinese New Year Reunion Dinner is probably one of the easiest meal to have but the preparation time may take up to two hours to prepare. Have you ever had steamboat /notpot before? What ingredients do you normally like to put into it especially if you prepare it yourself?
2 responses

• United States
17 Jan 11
I have not heard of this. I'd love to know more about this tradition and what food are typically served in the steamboat meal?

• Singapore
18 Jan 11
Chinese hotpot or steamboat, refers to several East Asian varieties of stew, consisting of a simmering metal pot of stock at the center of the dining table. While the hot pot is kept simmering, ingredients are placed into the pot and are cooked at the table. Typical hot pot dishes include thinly sliced meat, leafy vegetables, mushrooms, wontons, egg dumplings, and seafood. The cooked food is usually eaten with a dipping sauce. In many areas, hot pot meals are often eaten in the winter.

• United States
17 Jan 11
U right. Well most of the time my mom makes everything. U must be Chinese, I'm half chinese. Happy early New Year to u