Card 13-Death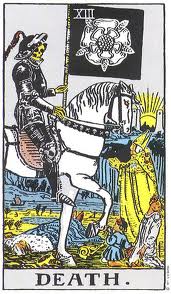 United States
January 17, 2011 8:28pm CST
Death is often misunderstood and is often misinterpreted when read, but it is a quite interesting card in the tarot deck. Death represents true victory. Is the God Ares or Mars. It is Khephra the god of light in the darkness. Death lays on the path between Netsach (Victory) and Tipareth (Beauty) on the Tree of Life. It is in the path working of true victory. Victory that becomes beautiful or is beautiful because of the way in which it is obtained. As beauty lays in the middle pillar it is Death that helps us to move from a purely right pillar path to the middle pillar of balance. When Death is drawn by itself or in a spread in a tarot reading it symbolizes change through a transformation. This transformation may be in your spiritual life, physical, or even your emotional/mental life. Of course if in a full spread Death's meaning would be dependent upon the surrounding cards. In the positive this change is akin to the metamorphosis of a butterfly. It is long, sometimes exhausting process but the result is beautiful just like the emerging butterfly. In the negative it is a card that symbolizes something that may be taken away that should have been voluntarily given up. It represents a refusal to change or a change that is thrust upon you. Question: What is a recent major change that you have experienced in your life? Is there something in your life which you would or would not like to change?
5 responses

• United States
18 Jan 11
My life has been full of changes. I know it sounds crazy but sometimes I think I have lived a hundred lives. Changes for me have always been from one extreme to another. From a very low point to a very high point and then visa versa. Odd really. Some are chosen and some have been forced...lol. I also have a very strange 5 year thing. Most of my significant changes happen every 5 years. My children are even 5 years apart. All three of them.

• United States
19 Jan 11
Jen- That is very interesting that you have the number 5 in your life. Maybe it is a birth number? It certainly seems to be an interesting synchronicity. You seem to have survived well enough thus far and perhaps your experiences have helped you gain some insights on how to surf the waves of life. Namaste-Anora

• United States
19 Jan 11
It is weird. I never really thought about it until a few 5 year periods had went by

Then it dawned on me one day..wow...every 5 years..not just an easy transition kind of change either...it is usually huge. It would be neat to know what significance that number holds..that's for sure.

• United States
19 Jan 11
Jen- Well, I do know that the number five represents the human microcosm, man himself. You find this symbolism to go across the belief systems/cultures. In Christianity you have the five wounds of Christ, the books of Moses, the feeding of many with the fish and loaves. In Paganism you have the five pointed star (though we do see the five pointed star revealed in the biblical stories of Solomon as well). It's not a balance number but it is not a bad number either. If you have ever seen the movie
The Fifth Element
that is an excellent example of what five symbolizes in all of its embodiments. That would at least be my take on the number five in your life, but that is only going on what I know of you thus far.

Namaste-Anora

• Guwahati, India
18 Jan 11
Hi Anora, Your tarot reading and the significance of the number of the cards is interesting. In fact I have never tried tarot reading on myself. But many people show faith in it just like they believe the astrological things. Some four months back I had been seriously ill and after my recovery I feel I have been changed for I do not like to do things that I would before. Had been all negative but now I see the positive aspects too.

• United States
19 Jan 11
Rajib- I missed you when you were not on Mylot due to your last illness and I wish you to remain healthy for some time my friend. I'm very glad to hear that you were able to accept and embrace that change and allow it to positively transform your life. Namaste-Anora

• United States
21 Jan 11
I feel that I've been quite lucky that I have not experienced any kinds of major changes in my life recently. However, I know that as time goes on it is going to be something that I will face time and time again in my life. If I was able to change one thing about my life, I think that I would have made different decisions in my life when I was younger. I know that the decisions that I did make when I was younger all worked together to make me the person that I am today, but still some of them would be different decisions.

• United States
24 Jan 11
Dorann- I think all of us if we are honest would say there are things we would change about our youth. That is the growing time for us and hopefully as we age we learn from those choices. Namaste-Anora

• United States
18 Jan 11
I am not a big fan or proponent of change, unless it was self motivated change. I suppose one thing that happened recently that was a change and WAS NOT GOOD was that my husband was nearly run over and killed when he got rearended by some idiot who ran two red lights and also rearended the car behind him. Two cars and the car belonging to the driver who caused the mess are completely totalled, so now we have to go to doctors and find an attorney. The ins better replace the car, we'd only owned it for a year.

• United States
19 Jan 11
I suspect if most of us were honest with ourselves we would find that few are fans of change. We tend to perceive something different as a potential challenge or obstacle. While this can be of value in a certain way in overcoming challenges it may be wise to allow ourselves to experience and reflect upon the positive results of change. Namaste-Anora