I really like tuberose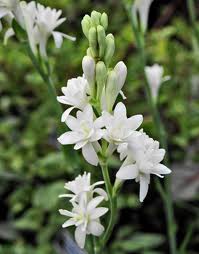 Vietnam
January 21, 2011 3:47am CST
I'm very like tuberose flower. They have a pure white color and very sweet-smelling. But they're only used for worship in our country. So, I can buy it for my room. My friends say that I should choose another flowers. How do you think about this?
5 responses


• Vietnam
22 Jan 11
You're right. But don't you feel that it's strange when you put some worship flower in your room? Is it normal?

• United States
25 Jan 11
hello tkonlinevn, Wow this is a pretty flower and has a fragrance. pretty cool. Does it smell like a rose or something more fruity? How tall does it grow from the picture I would say 6 inches. Cannot it grow in the shade? does it only come in this one color? You choose what is best for you and makes you happy. Thanks and have a great day! Sincerely unique16

• Vietnam
26 Jan 11
Yes, tuberose is very beautiful and smell. I only know that they're white. They maybe have other color but I don't know.


• Vietnam
26 Jan 11
Thank you for your response. It's make me feel more confidence about my favorite.

• Canada
21 Jan 11
I think, if there is no law that forbids them to be used for things other than worship, that you should have them, if you like them. I do not see how it is disrespectful. If they are used for worship, it must be that god likes them, correct? And so if he has created something so pleasent that he likes you to worship with them, how could it offend if you love them and want to have them near you?

• Vietnam
22 Jan 11
No one forbid them. But I only feel shy and strange if I enjoy them while every body only use them for worship.

• United States
21 Jan 11
I think your friends should mind theor own buisness. I would but what i wanted to buy & they could do the same.

• Vietnam
22 Jan 11
I don't think that my friends don't think like that. Because they don't sell flower.