Do you like waffles? What do you eat them with?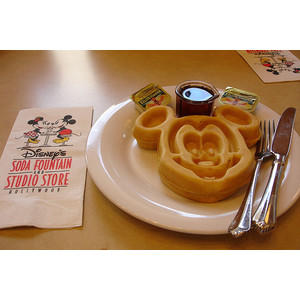 Israel
January 23, 2011 2:00pm CST
One of my favorite things to eat is seriously waffles, I absolutely love them! I like them best with a tiny bit of vanilla ice cream and some fresh berries, but I would love to try other ways to eat them as well. So tell me: Do you like waffles? How do you prefer to eat yours? (I've also added this image of a super cute waffle shaped like Mickey Mouse. I would love to know how to make those!)
10 responses


• Israel
29 Jan 11
Yes, I suppose so. I would really love to have a cool iron like that, I think it would be really fun to make waffles with something like that!


• Israel
29 Jan 11
Hehe, I am assuming most people love waffles, but you never know... Melted chocolate on waffles sounds amazing!!


• Israel
29 Jan 11
Haha, that is such a great tip! I have never thought of targeting all the waffle holes that way, but that makes a lot of sense indeed! :)


• Israel
29 Jan 11
That sounds really delicious indeed! I never thought of adding nuts and chocolate chips to them, but I really need to try that! Thank you so much for the tip! :)

• United States
10 Jul 11
Hi, puccagirl. I am thinking that there is a certain griddle that has a silicone shape of Mickey Mouse face. They have many cooking devices that are like this though. I love eating strawberries, raspberries or blueberries on my waffles. I also may eat a few pork sausages with them too. It just depends upon the craving that I may have at that time.

• United States
23 Feb 11
I love waffles. I just eat them plain. No syrup or anything, which my friends consider weird.

• United States
29 Jan 11
Not the biggest fan of waffles but if they are there, I'm not going to say no to them. Chocolate syrup is among my favorite things that I put on waffles. It does tend to be a good taste. But as I said, it is not something that I really do eat all that often and thus it is something that I do not think about all that much. Still that's what I eat with them.

• India
24 Jan 11
Waffles make a great form of break fast. Well I like to have them with a bit of maple syrup, some scramble eggs and some bacon (not too crispy though). It would make it a wonderful and filling break fast. You can even put the bacon in the waffle when making it in the waffle iron for a change. Of course you will have to cook the bacon first. Kids prefer to have it with vanilla sugar and berries and butter... I am a foody so I will take waffles with pretty much anything.. :D Balu

• Vietnam
24 Jan 11
I also like them. But I'm not crazy about them. I usually eat only them.