If You were Dhoni ???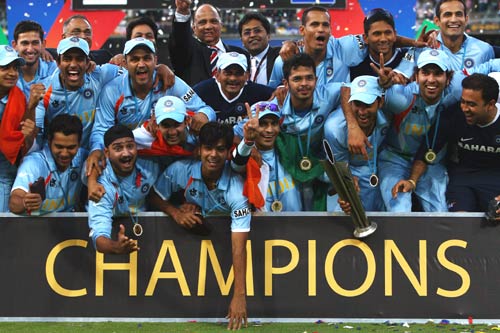 India
January 24, 2011 2:53am CST
M.S.Dhoni has some difficult choices to make when it comes to selecting the playing 11 for the World Cup. What will be your choice , if you had to make these decisions. [b]One batsman from the three listed here : Yuvraj, Raina & Kohli One Bowler from the three listed here : Praveen Kumar, Munaf Patel & Asish Nehra. [/b] One additional for your brain cells. If Harbhajan has to be rested his replacement from these : Ashwin & Chawla I look forward to your response with great interest !!!!
9 responses

• New Zealand
28 Jan 11
If I were Dhoni, I would go with Kholi and Raina and leave Yuvraj out. Not underestimating Yuvraj but, he's struggling at the moment. I'm not saying Raina isn't struggling either, but if you look at the last home series against New Zealand (before the south africa tour), Raina played some excellent match winning innings. He's a great sub-continent player. I can't remember the last time when Yuvraj performed in a "pressure situation". Raina struggled against South Africa in ODIs, yes, but he still managed to score 20, 30 runs on each innings. When it comes to bowler, I'd prefer Munaf ahead of Nehra... Nehra was struggling in the South african pitches where the conditions helps fast bowlers and yet he failed to capitalize. He should surely be low on confidence plus he doesn't have variety in his bowling. On the other hand, Munaf is a type of bowler who bowls stick-to-stick. Your third seem bowler should really be of his kind plus his recent form has been good, so will go with Munaf.

As for Harbajan not being able to play, I'd pick R Ashwin as he has got variety in bowling. I wouldn't pick Chawla as a front-line spinner in absence of Harbajan as he haven't played a lot of matches recently... Ashwin has done reasonably well in the limited opportunities he has got. His preformance against New Zealand series was not bad either. So will go with Ashwin

My first choice playing 11 for the world cup will be like this: 1) Virender Sehwag 2) S Tendulkar 3) Gautham Gambhir 4) Virat Kholi 5) Sursh Raina 6) MS Dhoni (c) (wk) 7) Yosuf Pathan 8) H Singh 9) P Kumar 10)Z Khan 11)M Patel

• India
25 Jan 11
Ya, really a tough a decision.I will go for Yuvraj instead of Raina and Kohli.He is more experienced than the other two.Also he is proved .I think he cam handle the pressure situations more than the others as he was there in the middle at these conditions for many times before.Also he is a "handy" bowler.Dhoni himself declared Yuvraj as a bowler some days before. Next with the pacers.I will choose Praveen Kumar as he will get more swing than any others especially in the Indian sub-continent conditions.Also he maintains his consistency.He can bat a bit at lower end too. I pray to God no such conditions occur such that Harbhajan Singh won't play.He is one of the world's best spin bowler now available.Also he has shown his batting proficiency in a few matches before.Now I think India has got another all-rounder too.Any way if such a bad condition occurs I will vote for Ashwin.

• India
25 Jan 11
I will select: 1. Kohli 2. Munaf Patel 3. Ashwin

• India
24 Jan 11
yes man with the current form every one is in, it is very hard to actually decide the final 11. with pathan in such great form, it will be a sin to drop him. shewag is a sure thing and so is tendulkar and dhoni now comes gambhir. then there is Raina who plays well in indian conditions and is playing well too. then kholi is also in nice touch... so whom to pick is a bit hard to say now :P

• India
24 Jan 11
Hmmm... This would be a difficult choice...(Yeah Right) Raina would make sure that your team would lose in crunch matches by throwing his wicket away... Yuvraj sadly needs a confidence check... I hope he finds it deep within him somewhere... Kohli has been consistent and sensible in his batting and has dished out some wonderful performances in the near past... So among the three I would always choose Kohli. I know that Munaf Patel has bowled decently in the near past. But with his lack of pace and more importantly his lack of good attitude, he is a sure target for the visiting batsmen in the sub continent pitches... Nehra is good bowler on his day.. But off late he has not been consistent especially in the depth overs.. On the other hand Praveen Kumar has bowled well in the depth overs and in the middle overs... So I would pick Praveen Kumar hands down... I have always thought that Piyush Chawla was a wrong selection for the world cup... Aswin is always a better option as a spinner and as some one who can bat a bit... So my options are Kohli, Praveen and Ashwin... There Dhoni... you should have asked me before he picked the team India... I would have given you all the advice...FOR FREE :D Balu

• China
27 Mar 11
If i am dhoni then i would like to take Yuvraj then other batsman as i do believe he is batter then others for odi. And munaf patel other bowlers. As he has a great talent. And Chawla replacement of harbhajan. Have a good time!

• India
26 Jan 11
i think nehera can be dropped, and in the same way chawla can be picked. but dropping one batsman from the listed three is very difficult. i think dhoni will keep yuvi as both are good friends and yuvi is now bowling well, and raina can be dropped considering the dip in his form.

• India
25 Jan 11
I will select: 1. Kohli 2. Munaf Patel 3. Ashwin

• India
25 Jan 11
I will select: 1. Kohli 2. Munaf Patel 3. Ashwin