What breed do you have OR what breed are you planning to buy?

Romania
January 24, 2011 11:26am CST
What breed you have or planning to have? I have a male Cane Corso , 3 years old , and I must say that I am very happy with him! Cane Corso is a big massive breed, used for protection back in time , but he gets attached to it's owners and is very carefull with children! I never had medical problems with him , and it is just a pleasure having one. What about you?
7 responses

• United States
24 Jan 11
We have Chihuahua's & A weenie dog. I love them!

• United States
24 Jan 11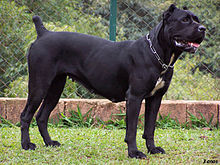 If your dog looks anything like this one, it's BEAUTIFUL!!! I like small dogs for inside & large dogs for outside. I have 2 Black Labs that weigh about 75-80 pounds & a Jack Russell Terrier that weighs about 30-35 pounds. The Labs stay outside to protect me & the house. The JRT is both inside & outside. Funny thing is people aren't afraid of her...yet she would bite before either of the Labs!!!

• Romania
24 Jan 11
That's the one ! He's excelent for protection and love for the familly. When I walk him outside , most of the people get off the pavement and walk on the road untill they get past me and my dog :D I feel so proud !

• Hartford, Connecticut
26 Jan 11
All 4 of my big dogs are in the house.. I feel it's easier for them to protect ME if they are with me.. they wouldn't be able to save me from the back yard if they are locked out side and someone broke in the front door.... We have a little dog a chihuahua/pitbull mix that is my roommates and lives upstairs in his room.. and he will bite anyone without a second thought too... lol No one is getting in his room without getting an ankle bit that's for sure.

• Romania
27 Jan 11
Mmmmm, Cane Corso are beautiful, strong dogs! I like them! In fact, I like larger dogs more than smaller ones. I don't have a dog right now, but I intend to get for myself a Bernese. They are so sweet and so gentle! And they can be best pals for children, too. They do have some health problems like hip dysplasya or some eye condition (I don't know it's name) I think Cane Corso can have the same problems too.

• Romania
27 Jan 11
Yes , Hyp Dysplasya can be a problem for dogs , but luckily mine doesn't have such problems :D Bernese is a good choice too!

• Hartford, Connecticut
26 Jan 11
I love those big dogs.. I would love to get a Great Dane.. someday.. but for now I have 4 dogs.. used to have 5.. (as in my profile pic) I have 2 collies and 2 half collie mixes (my pretty boys are the collies and my girls are 1/2 their father is my tricolor Braedyn) I would also love to have a German Shepherd. but I love mutts just the same.. I don't Think I would buy any dogs as there are so many Purebred and mutts out there in shelters being euthanized every day. I will just get my next dog from a shelter.. it will probably be a mutt but who knows. And it will more than likely be big. :-)

•
26 Jan 11
I used to have a Rough Collie till 1997. She was 17 years old, and my faithful companion. I still miss her a lot, but my employment status at the moment prevents me having another dog. I work seven days a week it would just not be fair. Up until her last six months of life she was never ill.

• Philippines
24 Jan 11
i am leaning towards small dogs because they are so cute and easy to manage maybe, but i cant also ignore the big dogs because they are so playful and can guard the house or owner maybe. as of now, we have german shepherds. i can say they are really lovable and intelligent but of course, aren't they all? im planning to get a small dog, im not sure if its japanese spits, maltese or shi tzu and id also like to have a labrador or golden retriever maybe. but these are still just plans. what do you think are nice breeds?

• United States
24 Jan 11
I would have to say I'm not a big fan with huge and big dogs I like small dogs and i had small dogs all my life. I recently bought a dog about 2 months ago it will be 3 months soon in feburary lol. My breed of dog is a pekechon it's a extremely rare dog that the pictures they show online is of a cavachn and they are two different dogs so googling it wiling a waste of time haha. Because I look online and didn't see Anything simialr maybe nice or twice but I was doing hard searching online and found like one or two pictures. Well yeah I love my dog he is a male by the way and he is extremely payful but cry lovable but he has a attitude sometime or just a plays a little to rough for kids haha. Haha. But I guess he will learn in time since he is jet a puppy still he growing fast and lost his first tooth recently haha