who do you think will be winning this year's world cup?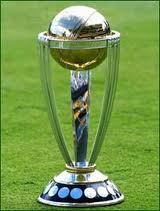 India
5 responses

• India
27 Jan 11
One player is enough to tilt the game in your favour in the world cup. Keeping this in mind all test match playing countries have a good chance in winning the world cup ! Logically speaking, the team with the largest number of match winners ( impact players ) have a higher percentage of winning. India has : Sachin, Shewag, Yuvraj, Yusuf & Harbhajan.

Srilanka : Sangakara, Jayawardhene, Malinga

Australia : Watson, Hussey England : Peterson, Morgan South Africa : Amla, Devilliers, Steyn, Morkel

Pakisthan : Afridi, Umar Gul New Zealand : Mcullum, Taylor It looks like India, South Africa & Sri-Lanka have the highest chances of winning.

• India
28 Jan 11
agree with you, atleast somewhere i heard south africa finally:)

• India
2 Feb 11
wow...
@srijshm
you have got a good observation.....anyway I think India gonna rock this time...
@shashusmart
I don't think there is any hope for south africa... as this time Steyn And Morkel will not gonna work as the wicket condition is not like south africa.....


• India
26 Jan 11
then even bangladesh can win, right? i still think south africa has a great chance seeing its plentiful talent...:)

• United Arab Emirates
26 Jan 11
Indian part timers will hold the key as they allow to play extra batsman and on slow sub-continent pitches that will make India as favourites. They did well even in SA. specially Yuvraj singh's left arm spin was quite useful. A batting lineup consisting of Sehwag Sachin Gambhir Kohli Yuvraj Dhoni Pathan is a match winning powerful line-up.

• India
27 Jan 11
they can be ripped apart in front of strong opposition, and have proved it many times still with south africa:)

• India
26 Jan 11
Hi Smart, The WORLD CUP is set to begin in India on 19th of February.This mega event is hosted in three countries India,Bangladesh and Srilanka.I think all the top 5 teams have the chances of winning the WORLD CUP.My favorite team is India because it is my home country.I would love to support it.But I think Australia and Srilanka have more chances of winning the WORLD CUP.The Indians need to play well to win the trophy.


• India
26 Jan 11
agree with you, australia is certainly no body's favorite this time:)