Filipino delicacy Balut(duck egg)one of the weirdest foods in asia.Do you agree?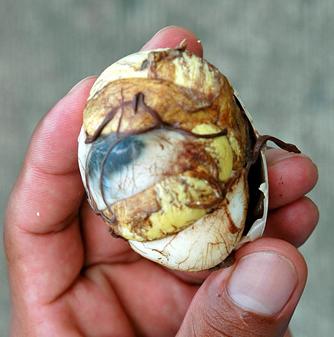 Philippines
January 26, 2011 2:00am CST
While i was looking for videos to watch in youtube, I came across a video from national geographic channel about the Filipino delicacy Balut or duck egg. I was just curious if any of you thinks that eating balut or duck egg or the balut itself is weird? You can watch the video from these link if you're curious: http://adf.ly/MYDG
3 responses

• Philippines
26 Jan 11
it's not wierd..i've been eating balut since i was a child and i can honestly tell you it's one of best tasting food i've ever eaten.try eating balut made from our town masbate.


• Philippines
26 Jan 11
I agree. But would you believe that my husband hails from the city where Balut is famous for? We have been together for 14 years but to this date, I have not eaten the whole egg. I would only eat the yellow part or the "pula". I still cant stand thinking that I would be eating the chick. NO WAY! :D