Have you ever been on the receiving end of a rant?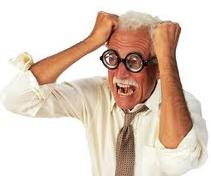 Canada
January 28, 2011 4:20pm CST
Let me qualify this further, the rant wouldn't necessarily be about you. This morning, as I was doing my rounds on the production floor, I came upon one of the mechanics just having a terrible day. He had just a run-in with his supervisor, and having himself a rant. Unfortunately, I had to talk to him about something else, so I ended up just listening to him rant. Personally, I think he just wanted somebody to listen to him, as he expressed his frustrations. He was complaining about his supervisor who happens to be very full of himself. I also don't get along with his supervisor, but I try to be civil and work with him as required by my responsibilities. Now the question is… Which stance do I take? As this mechanic complains about his boss, do I also rag on his supervisor? This considering that I don't like him too? Or do I take up a neutral stance and just listen through all the rant? Or worse, should I end up defending him? If you were in my shoes, what would you do?
10 responses

• United States
7 Feb 11
LoL the day of your discussion as I entered my response was the day my internet went phooey, which lasted nine days and so did my response. So I will give it a go again: Personally I feel that yes you can semi listen to the rants at your company but keep in mind that at some point during the rant it is advisable to advise the employee to take the issue directly to their supervisor, if the supervisor is being unreasonable it is then that the employee needs to over step and take the issue to human resources. Reason being is that the supervisor will have the authority to fire and or make up excuses to be rid of the employee. As for your positioning with the whole situation, would be best to advise that if you are asked to give input that you would be as impartial as possible with honesty however, it would not be your place to stir the pot. Bottom line I do not feel you should be completely not interested but at the same time not completely involved. Had it been one of the employees under you then yes you do take a stance and get all hopefully worked out. This is how I would have handled it.

• Canada
10 Feb 11
Nine days later, plus three more days before I got back here again, I could say I really appreciate your response. I think you've put in the most 'level-response' to date. And it's as if spoken(written) by someone who really knows, or has been in a similar situation. It's great and I thank you for it.


• United States
28 Jan 11
That's a tough position to be in. Considering you are at work at the time I would probably just listen and not interject any sort of opinion, only saying "I'm sorry you feel that way" now and then, and possibly offering advice if there were any I could like "You should talk to so and so about this." or something. Better yet, first chance you get just say "Oh, I'm sorry.. and I'd love to hear all about it, but of course I need to get back to work so can I get you to answer this question (or whatever it is you need him to do)"

• United States
30 Jan 11
I would just listen. Sometimes that is what people need. As far as ragging the supervisor there is one thing to keep in mind. If one day you are a supervisor..and your team has heard you say things about the supervisor before you were one...they will think it's ok to say things about you too. If you keep a certain standard while you are in your position now...they will understand your standard when you change positions. Now...you can coach them. If they have been wronged..you can suggest ways for them to be heard in a professional manner without saying bad things. That helps them plus keeps you neutral.

• Canada
4 Feb 11
Spoken(written) like a real experienced supervisor, Jen!

At the back of my mind, there is that thought. Although I also wanted to say something bad about his supervisor, I'd hate to think what the people on the floor say about me if my back is turned. So I try to be neutral, and professional all the time.

• United States
29 Jan 11
The most professional thing to do is just listen. You do not have to feel obligated to say anything. You did a great thing by listening to the guy go off, I'm sure he appreciates that. It can be so frustrating working with someone like that who is your boss.

• Canada
4 Feb 11
That was what I was thinking the whole time. As much as I wanted to say something bad about his supervisor, I thought I did not have to. He was already doing it for me. He saved me the trouble, and it helped eased his nerves a bit by having someone listen to him. And yes, I appeared to be 'more' professional. Thanks.

• Philippines
4 Feb 11
If i were you, i would just let him rant. It's one way of ventilating an anger. You don't have to add smoke to the fire though. It might just put you in a bad light when you do that. He might quote you to his boss, should there would be a confrontation. Just try to comfort him and tell him to just bear with the boss. He is the boss so he has the final say. But of course tell him to voice out whatever he has in mind for a work assigned to him though. That way, his suggestion might be considered too.

• Canada
10 Feb 11
As much as I wanted to, I certainly did not add more smoke to the fire. I already know that his judgement was already a bit clouded, so I didn't want to make myself look better than his supervisor. So, I just did let him rant. And lent a symphatetic ear. It made me look more professional, and yet gave me a just-one-of-the-guys feeling.

Thanks.

• United States
31 Jan 11
This really is a tough situation to be in because at the moment it seems like no matter what you do, the decision that you are making is not the right decision. That said, the best thing that you can do in this kind of a position is to listen to him, and offer him advice when it is appropriate. However, I would definitely not bad mouth the boss because you never know when things will end up with the boss and you don't want to put yourself in a bad situation.

• Ipswich, England
30 Jan 11
Hello bounce. Yes, i think we all have one time or another. From unknown people, usually old or drunk that start talking to you in the bus or tram when it is full enough so you don't have a quick escape from them, telling you of who knows what that you definetly DON'T care, to my girlfriend, who would release her negative feelings on one or another of the things that happen to her, on me, and then we dispose of them together :)

• Canada
4 Feb 11
I guess there is something to the fact that some people just appear to be more approachable than others. That they could offer up a listening ear for all of their frustrations. Even if we don't ask to be. It makes us look good, but It's also bothersome most of the time(specially if it were a drunk on the bus

).

• United States
29 Jan 11
I think that we all need someone to vent to when we are frustrated, and it is good that this person felt that he could get his frustrations out by taljking to you. I do think you handled the situation appropriatley, however, considering that you were at work. You do not want anything to compromise your job, which this might have done.I would have just listened and make a comment afterwards that wasn't in either of the peropls' favor.

• Canada
2 Feb 11
That's just what I did. I wanted to symphatizzed with him, but I did not want to say anything bad about his supervisor. Even if I couldn't stand him sometimes. Maybe there's a big sign on my forehead that says 'talk to me when frustrated'.

Anyway, I don't mind lending an ear once in a while.

• Canada
28 Jan 11
I'd say just focus on your work if he keeps ranting, keep reminding him of your question you know what will happen next, because he is too busy with his own anger in the future if something goes wrong, he will say you never ask be on your guard at all times, keep a note and try have someone with you when you ask him questions, in case he forgets (or denies) that you do come to him

• Garden Grove, California
28 Jan 11
hi bounce I have always found it best to listen be sympathetic yet not bad mouth the supervisions. I had the misfortune before I retired of having a fellow worker rant to me about our boss the branch manager. she went on and on and suddenly I smelled the manager's really strong perfume. I shook my head and put my finger to my lips buit Clarie did not get my drift. she finished with saying "and she is bi polar and does not take her medication..Emily walked off and did not say anything but she called Claire into her office the next day. She was transferred to another branch of our library system.To start that next day.Its not a good idea to badmouth a boss even if she is the pits where she can listen in to your ranting.If I were going to side with the ranter it would have to be where you could not possibly be overheard by the person you are ranting about.Its best to be neutral out in open areas of your work place . many jobs are lost because bosses overheard the truth about themselves' and its so sad and not very smart on the part of the employees.

• Canada
1 Feb 11
I think that's what I'll do too! If I ever go ranting about my boss or supervisor, I don't think I would do it at work. Or even to a person who knows my boss, even if he or she is a trusted friend. I think sooner or later, it'll get to your boss. And if you don't get sacked by it, you get awkward moments all the time.