The Path Heading to Happiness

Philippines
January 28, 2011 8:04pm CST
I'm very confuse right now guys. I do have work which pays enough, been working here for almost 2 years. It's not a perfect job, but I gained a lot of friends here. It's a call center job so you know how stressful it is, specially when you in a sales department. As of now, I'm on leave, for almost a month already. I don't know, but I feel something is missing to me.I feel that I don't want to go back to my company anymore because I can't feel any excitement anymore. My supervisor is already asking me, but I just keep telling them that I'm still arranging some things. I wanted to try something new, meet new people and have a new set of goals for my career, however, I feel afraid to do it since I have to start at zero again. Its not actually about the money, but its more on self fulfillment. If I'll go back to my company, I can see already what will my life be and the environment as well. If am going to apply for another job, might be the same industry, I have to undergo the feeling of a "new hire" and fit myself to a new environment. I wish I can be like those people who are happy and contented on what and where they are:-(
6 responses

• Philippines
29 Jan 11
Hi. Well, first things first. Look at your financial condition. Nowadays, with the cost of living escalating, it's risky resigning from a good-paying job without any concrete plan on what you are going to do. If your salary is just enough to pay off your bills, then I would think twice from resigning. It's not easy getting a job outside the contact center industry. But if you have some savings stashed away, then start looking for that job that would give you fulfillment. Someone said that you should consider starting your own business. He's right. Having one's own business almost always gives someone self-fulfillment :)

• Philippines
30 Jan 11
thanks, well yeah. I'm been thinking as well abt the business stuff, but as I've mentioned, its not an easy step to take. I have to consider a lot things.If the competition for job hunters is quite difficult, most likely, business is also the same, though Im not closing my door for that. Some companes have been contacting me already, I dont know here they got my number, but its just an interview. Ill be going to one of those company tomorrow, and see what will happen next. Whoa!...quite nervous, feels like a 1st time applicant again:P

• Philippines
29 Jan 11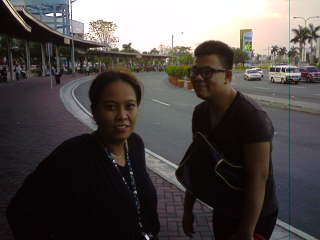 Oh, so you're in a call center industry? First and foremost, beware of these scammers in the image I've attached. They are notorious money takers. They'll do whatever they can to lull you into believing that they're nice people but they're not. I suggest you stay away from these and spread the news as much as you can.

You don't really need to an employee all your life. Plan on putting up a business so you can be your own boss. That feels great, right?

Just save up enough to put up your business then start from there.

• Philippines
29 Jan 11
tnx for the comment..:P...i just wonder what these people can do to me?, the background seems familiar...somewhere in Makati right (?). Anyway, yeah Im planning to have my own business as well but I think that takes a lot of time, money and preparation as well. Have to wait a little long.

• Philippines
29 Jan 11
It's actually from MOA, in front.

Yeah, they can do a lot of damages if you're not careful.

Well, you can save up to a couple of thousands and rent a stall from a mall like Harison Plaza and sell pancit or something. I know someone who hired somebody to sell
kakanin
and earns P900.00 to P1500.00 a day, imagine that.


• Philippines
29 Jan 11
Sometimes we get burnt out from our job. It's as if it has reached its peak and cannot give anything new anymore. It's difficult to be on the sales department specially if there is a quota. Each time you wake up, you have to think of how to cope up with the quota given you or your department. Am i getting your point of view in your discussion? Or have i thought otherwise? have a nice day!

• Philippines
29 Jan 11
well, you're actually right, but so far, i haven't experienced being shouted at because of my performance. and from the past few months, i didn't really take in so much calls since I've been monitoring new hires and as much as possible, train them. I guess it's the feeling that the job can't give you anything new, you wanted to leave, yet the environment pulls you back, its more of a comfort zone already.

• India
29 Jan 11
Try try till u succeed till the time u don't get the new job.Don't be nervous u will get the job soon till the time u can earn the money from my lot its a very good site for earning the money . I am also new for this site.I also want to earn the money my friends said me that this is a very good site.I am trying my best ....

• Israel
29 Jan 11
I would stay at the job, but start looking for other options while I work there. You should not quit before you have decided what you want to do instead. So spend some time looking at other options, and I am sure you will find something better :)

• United States
29 Jan 11
Since you do have a job, keep it for now. This does not stop you from seeking your dreams or a new path. A little will along with determination can open lots of new doors. Life is always better when we are growing. Don't settle for being merely contented. Let's go for the good stuff. Few things really worthwhile come easy in life. Let's just see what you can really do!!!! I believe in you!!!