Sacrifice for the family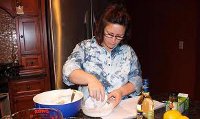 Philippines
February 1, 2011 9:12pm CST
Being a mother is not an easy task. It requires your full commitment and sacrifice so you could give your all to your love ones and children. It is a loving duty to become a stay at home wife, a mother or simply called housewife but the pressure is not always simple. As i've experienced a lot of happy and hurtful things on being a mother. I tried my very best to do my responsibilities at home. Everyday is a challenge to face the realities of life. If i compare my work before inside the office, now i can truly say it is an easy task with salary. You can have a 15 minutes break and lunch breaks in between with an afternoon snack break again. Being a housewife is different, you could tell it when the pressure is on and you have no time for yourself. Our family is important so whatever happens it is my choice to do what is good and sacrifice a lot for them. God bless all housewives and my advice is to always be strong and keep the faith. Love and sacrifice. Patient enough to know that at the end of the day you know you've done well. Time will come that all worries will end and reward will always be great. Happy being a mother. Happy mylotting to all!
7 responses

•
2 Feb 11
I totally agree with you. I am a full time housewife to my husband, a full time mom to my kids, and a working mother 5x a week. Being a mother is such a happiness and fulfillment to me. It is a really tough job to be a mother since I have to work to financially help my family. I hope husbands will understand this.

• Philippines
2 Feb 11
Thanks for sharing nj. I think you are really a good and fulfilled mom. Very good to read what you do. A lot of patience and sacrifice is given each day to assure our family's comforts & needs. Take time also to rest and relax once in awhile it is good thing also to take care of our health. Happy to read your post too. Happy mylotting!

• India
2 Feb 11
This is so true... being a housewife is the most thankless job in the entire world...only your happiness is your sole reward. Most of us think that housewives don't earn anything so they are not productive...that's all economic jargon. The ground reality is that housewives put in the maximum hours of work with no breaks or no remuneration worth its name. you can never so NO to anybody...you always have to be at the beck and call of others and you have to put the interest of your family before yourself. Its all the more worse when the kids are small... sometimes I couldn't even take a bath long enough LOL. But as we mothers know, we seek our own happiness and fulfillment and once we see a happy family at the end of the day, that's the biggest reward in itself.

• Philippines
2 Feb 11
Yes, i agree that it is indeed the duties of a good, loving and selfless housewife-mother. We know the hardships within it with no salary at all, but the most important things are those we can't buy with money. Thanks to you too. Happy day!

• India
2 Feb 11
Hi dear, I know you are proud to be a good mother and should be. Once we are into it we will really experience the real moments directly. Every situation has its own goodness and bad features. We can nullify the unwanted elements and bring them to a better future. I hope you may be now really enjoying the motherhood and it is a thrill being a mother. How many child you have now? For my parents, we are five children and my mom loved all of us equally and I have 2 children elder as by with 14 years and daughter with 12 years and they are sweet to me. In my village, my neighbor have 14 children and we should appreciate the real mother!!! Thank-s

• Philippines
2 Feb 11
Hello to you. Yes, definitely it is hard but when you see your child you know all those tiring days of caring for the family's needs don't matter anymore. By the way i only have one, a daughter but soon i hope we will be bless with a son. God bless you too. Happy mylotting!

• United States
2 Feb 11
Thank you for your comments. You have no idea how much I appreciated reading what you wrote. I have sacrificed my education, my career, my life to be there for my kids. I complete forgot to take care of myself and I have been struggling and working hard for my family for so long and lately I have just been feeling so unappreciated--mostly by my husband who seems to think since he works and makes the money, he doesn't have to be home to help me, that he can be out hunting with his friends all day on weekends because he works all day during the week. I love what you said "Patient enough to know that at the end of the day you know you've done well." I will try to keep your words in mind and gain some strength from them. Thank you.

• Philippines
2 Feb 11
Hi chitchat. Your always welcome. I do want to share to my fellow moms about this topic. Yes it is realy hard & hurtful that we as loving housewives, sacrifice a lot for our dear ones & in return we still cry out because most of our partners are not mature enough to know what is right & sometimes neglecting to do what is good. I hope you get what i mean. You may want to try to convert it into positive thinking and ways to help yourself more so others especially your hubby may feel and realize soon what matters most. Communication is one key. Live your life to become more & more loving each day because i know it is the greatest. God bless you.

• Indonesia
2 Nov 11
When I am happy household, and had no problems. I really enjoy being a housewife. I am willing to let go of everything I liked, and I want to do, in order to become a wife and good mother. But, after getting some problems, made ??me feel very bad, and can not be a good housewife. And sometimes, I am not sincere, do all the housework, and I had to do all the housework. But, I am sincere, sacrifice for my child, I would do, and sacrifice anything for the sake of my child.

• India
7 Feb 11
I will have to agree with you that Moms are the one who does all the sacrifices for their kids. Family is our top priority and it should be always on top. I try to prioritize things in life and giving time to family and friends is the top most thing that I want to do. Work is to earn money and live a good life, it should not be opposite. Thank You for sharing.

• United States
6 Feb 11
I started quite young as a mother and although I was not raised by my own biological mother somehow deep inside I knew that once I became a mother it was no longer about me. As the children were the priority. It is a never ending life altering life really as our love for the children is so unconditional that they will always be and come first. The wonderful feeling of having sacrificed my entire life for them can never be replaced.