What a way to start the weekend!

Gold Coast, Australia
February 4, 2011 6:48am CST
A couple of hours ago, I returned from the beach. Today was a sweltering hot day here with hot sun and high humidity. It made for a pretty uncomfortable day. After our children returned home from school and we had finished our running around, we decided to head of to the beach.

We finish work early on Fridays, so we usually like to do something as a family to kick start the weekend in a positive way. Life does get in the way at times though and we do not always get to do this, but today we did.

It was so nice to jump into the water after such a long hot day. A nice swim, a bit of a kayak and a surf was just what I needed to unwind. Their is something magical about the ocean water that always leaves me in a good mood afterwards. There is a photo of the beach that I went to here just in case you are interested. http://www.travelpod.com/travel-photo/tim4042/1/1265307896/the-house-and-the-beach-currumbin-2.jpg/tpod.html

Do you make it a habit to do anything special to start the weekend?
11 responses

• United States
4 Feb 11
Sounds like a great way to start a weekend. I have seen the ocean when i visited my son when he lived in fla. but that's all i did was see it, lol. I think being around any body of water big or small is very soothing. I love to fish but haven't gotten to in a long time. My weekends are just anotherday of the week to me now but use to have plans for doing something. My grandson is playing basketball in a church league so i do have his games to look forward to now on sat. Hope the reast of your weekend goes great.

• Gold Coast, Australia
4 Feb 11
Have you only seen the ocean that one time? I find that really hard to believe as I have always lived near the coast, but I guess there are plenty of people here in inland areas who have never seen the beach in real life. Some areas do not even have lakes, just seasonal rivers to swim in.

That is great to have some sort of family sporting event to look forward to each week. We have no great plans for the rest of the weekend. I have to do some work out at my archery club tomorrow and my wife wants to catch up on some tax stuff that she keeps not getting to during the week. Might have to go back to the beach again tonight though! I hope that you have a great weekend as well.



• United States
5 Feb 11
Yes,just that one time. It is a long way from Tennessee to a ocean, lol. Shows how much i have never gotten around but don't know the differtence.U don't miss things u have never had or i don't anyway.I'm afraid they will call the game off today on account of bad weather but we'll see 'if' it ever gets daylight around here.U just enjoy your weekend.

• Gold Coast, Australia
6 Feb 11
So was the game called off, or did the daylight finally creep in?

We went back to the beach again yesterday (Saturday) afternoon as well. Same beach but this time we left the kayak at home as we knew it would be a lot more crowded and harder to park close to the water.


• Carlisle, England
4 Feb 11
OMG how gorgeous is that beach? You're a Pisces right? They LOVE anything to do with water so I can tell you are right at home in the ocean my friend.

I'm so envious. It's horrible here. Damp, blowing a gale. At least (when you do get hot) you can cool off in the ocean. Bliss if you ask me!


• Gold Coast, Australia
4 Feb 11
Yep, Pisces the fish!

It is great to cool off, but the downside is that we have to leave the cool beach and come home to the heat. We are only a 15 to 20 minute drive from the beach, but it is amazing how much hotter it is away from the sea breeze! It is my favourite beach in our city, that one! The airport is just over the hill though, so you get planes coming in really low quite regularly.


• Carlisle, England
4 Feb 11
Can't you build a pond or would it dry up really quickly?


• Adelaide, Australia
5 Feb 11
Yeah, Bill - might have even been part of a show on telly. The one (years ago now) where the pretty lady takes her kids to Coolangatta Beach & asks herself why it's so beautiful, so peaceful & there's no-one else there, then suddenly this shadow passes overhead & she grabs her kids & throws herself over them to lie flat on the ground as this huge plane passes a few meters above them! The resulting hair-style was quite funny too. If one were to build a pond here in Adelaide today, it would dry up really quickly, Janey, but where RawBill is, it'd take forever to dry up owing to the extreme humidity (the air is already saturated with water)!


• Malaysia
4 Feb 11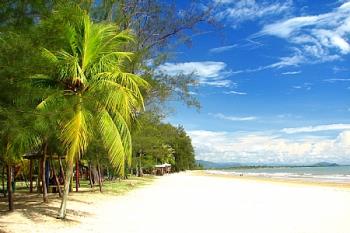 Australia has one of the most beautiful beaches I've seen and been to. With the clear blue sky and the clean beaches, one could not avoid the temptation to splash on its crystal clear waters. Unfortunately when I was there it was winter and dared not dip myself in the cold water. I was really mesmerized by the breathtaking views of your beaches. We do have our own fame Tanjung Aru beach in my country but it is no match to Australia's beaches. I am not really an adventurous or outgoing type of person so my weekends is usually confined to indoors or in my own backyard to do some gardening.


• Gold Coast, Australia
6 Feb 11
That would be awesome. We would love to do a family trip to Asia somewhere. My wife has been to Thailand and would love to return there. So many Aussies go to Bali for trips and we would love to go there as well as many of our friends have had great times there. We will see.




• Gold Coast, Australia
4 Feb 11
I often think that I do not have the time, but for me anyway, it is about prioritising my time. Spending a little less time chatting to you lovely people here and replacing it by spending some family time out in nature.

The sun is good!

We have long summers here, you could swim year round if you wanted, but I only do it six months of the year.


• Gold Coast, Australia
5 Feb 11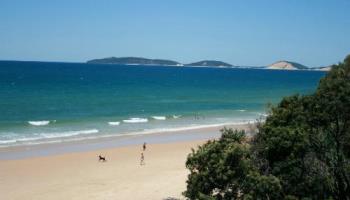 Sounds like my kind of weekend too Bill; it's funny how a dip in the ocean can lift our spirts and energize us, it always makes be feel good. I love the photo of Currumbin; I love that end of the Gold Coast and have spent many a day there! Last weekend we drove down to Rainbow Beach as it's the closest surf beach to us and I love to watch the surfers do their thing. As you can see from the photo, it was quiet when we arrived but we enjoyed it before it started getting busy, then we headed home, tired but feeling great.

• Gold Coast, Australia
6 Feb 11
Currumbin Beach is great. We love to go there as you have the surf and the flat water all in one spot. We went back yesterday (Saturday) afternoon for a few hours as well. The negative ions from the water and being barefoot and grounded to the earth always make us feel good.

Rainbow beach looks like it is an awesome beach. I think I have been there once before when I was about 12 with my parents. We were staying on the Sunshine Coast and we went on a 'coloured sands' 4WD bus tour. I think it was there somewhere. There was a shipwreck too.

We will have to come up and see more of that area again soon I think.


• Gold Coast, Australia
6 Feb 11
Sounds like a plan! Would love to visit Fraser Island too as I have never been there. There is so many awesome places to see along our coastline though isn't there. I wish I had a spare 12 months just to do this East coast justice!



• Philippines
5 Feb 11
Now that is what I call a perfect week end! Imagine that kind of beach right in front of your eyes. It is really a soothing sight. Plus the fact that you have broken your routine of work all week with kayaking and surfing. NICE!!! I wish I can do that every weekend. Unfortunately my work is up to Saturday. So after that, I only think of having some sleep during Sundays to go back to work on Monday. And the fact that the beach is quite far from our place.

• Gold Coast, Australia
6 Feb 11
I think I am blessed and lucky to live near some amazing beaches, but I chose to move here for that reason, so it was really choice and not lucky that I have them.

I used to work Saturdays too when I worked a full time job. Again I chose to alter the course of my life here, by quitting my job and becoming self employed working from home. I now only work four and a half days instead of five to five and a half. Life is too short to spend it working!


• Gold Coast, Australia
6 Feb 11
I like your profile photo. I have a photo of me that looks just the same from when I visited Tiananmen Square in Beijing.


• Philippines
6 Feb 11
How I wish I can do the same here. hehehe... Life here is quite hard. You have to work really hard. Thanks for the comment for the photo...hahaha... Yeah this is in the Forbidden City in front of Tianamen Square.


• Adelaide, Australia
4 Feb 11
Oh mate! You have the life! It has been unusually humid (or muggy weather, as we call it), down here lately. The evaporative air-conditioners don't work too well when it's humid. I don't have weekends, I go to work on Saturdays too. Maybe when we move to Queensland, I can retire into unending humidity & perfect beaches (which I'm not too keen on as they have a long history of giving me & my family headaches!). Yeah, the ocean connects you to the earth, grounding your whole body much more effectively than just about anything else. Good health to you, my friend


• Gold Coast, Australia
4 Feb 11
The beach is awesome for grounding you. Being barefoot in nature does this well, but the added negative ions from the water help the cause. Why do they give you headaches?

Sorry you have to work Saturdays. I used to do this too once upon a time for a few hours. The money was good and I would leave by 10.00am so I still had most of the day with the family. We don't have air con, so we don't have to worry about them not working too well in this humidity!


• Adelaide, Australia
4 Feb 11
Can't explain it, Bill. Maybe it's hereditary from so many generations being raised inland in the Murray Mallee. It's probably to do with the different air pressures or the change in atmosphere or something. No air-con? I think we'll need it in the Hinterland! Best get the refrigerative type which works well in humidity. At least the house prices are cheaper further inland.

• Gold Coast, Australia
4 Feb 11
I like to be outside a lot, so the comfort of aircon leaves me feeling trapped inside by it a bit I think. I remember being in aircon as a kid at a relatives house we were staying at and my parents just staying inside watching TV all day. I just wanted to go out and explore. That memory keeps coming back when I think of installing it. At least here with no air con, I can go in and out all day without the heat seeming to hit me! It does get really hot and humid away from the beach though.

• United States
18 Mar 11
Hi. RawBill1. I am glad that you have enjoyed your weekend!

You seem like you and your family had a lot of fun. I am happy for you. I wished that I could go to the beach too. It is very warm outside today. I know that many people will be enjoying this glorious weather. I am in the house for today. When May gets here, I will be out and about then. What a nice way to unwind and relax for the weekend! Have a great weekend, RawBill1!


• Gold Coast, Australia
18 Mar 11
Yes, we do have a lot of fun. Lately I have been going mountain biking with my daughter on weekends as well. This is something that I am just getting into. This weekend though I have a two day archery competition that my club is hosting. It is raining and I am heading off there soon, so I think I am going to get wet! I hope you have a great weekend too.


• Australia
13 Feb 11
I no longer work per se other than the occasional volunteer driving job. Also, living inland in a remote area means that all the days roll together...there is no weekend...and no beach.

If I was a pub going type person there are the Friday night raffles but the pub is not for me...to many smokers and too much swearing and too many yobbos...lol.

• Gold Coast, Australia
14 Feb 11
The weekends here normally just mean that the kids are not at school and we are out. We do not spend as much time at home on the weekends as we are here all week long, so it is great to get out and socialise with friends. Those web cams are a great idea. It looks a bit overcast in one photo and clear in another though, so that is confusing!


• Philippines
5 Feb 11
hi bill, my daughter and son in law and myself, dont usually sweat much during working days because we stay mostly in enclosed air conditioned rooms while at work. so we try to be able to unwind from office work during weekends by doing brisk walking in the park early in the morning (around 5am)and then joining the group doing aerobics (around 6am) also in that same park. that way we sweat like ice cubes in the sun

and i feel much lighter. my office mates have been telling me that they are seeing results.

and i feel wonderful. have a nice day. ann


• Gold Coast, Australia
6 Feb 11
Hi Ann. That sounds like a great way to start the weekend. Exersise is so good for letting go of the stresses from the work week and unwinding into a relaxing weekend. Sweating is also a good way to detox the body and flush it out. As long as you keep yourself well hydrated that is.


• Canada
4 Feb 11
Wow! That beach is just
awesome
! How I'd
love
to be there right now and not in the snow and cold of another Canadian winter LOL Do you live close to it or is it a bit of a trek? If I lived closed to a beach like that, I know where I'd be spending my time!

To answer your question, no, I tend not to do anything special to start the weekend. Sometimes, on a Friday, we'll do a pizza night - since we don't really eat out, having pizza is still a treat and it's a break for me to not have to prepare anything

But Fridays are typically about just looking forward to a couple of days of a more relaxed environment, less routine. Both my girls happen to be off school today so this is the kind of Friday I love... no matter how old they get, I am still really happy when they are home. I love having them around :)

• Gold Coast, Australia
6 Feb 11
That beach is 20 minutes drive from me. There are closer ones, but I like this one as you have the waves that you can surf plus the calm water of the mouth of the creek all at the one spot. Other beaches that are closer, have either just flat water, or surf, not both together. My wife likes to take the night off from organising meals on a Friday night too. We all just tend to get our own meals that night, even the kids make their own. (which is normally pizza)