lived for just 36 hours .. carried him inside my womb for 8 months..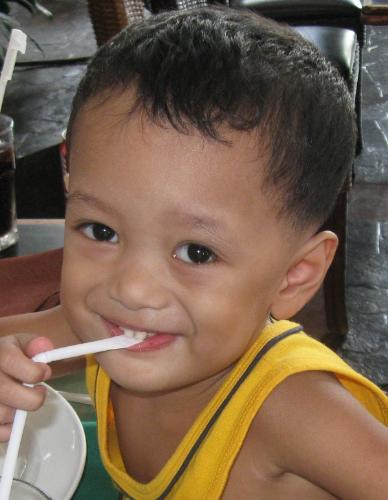 Philippines
February 6, 2011 9:24pm CST
I had my second pregnancy of twin. The feeling was very joyous! I'm working then... but still didn't neglect the lives i have to be cared of inside me. But unfortunately, i had an emergency labor at 8 months that made my twin to be in danger. They were so weak that time that my heart's breaking into pieces for being incapable to make them fine. Andrei's lucky but not Aeron. They were identical that means they were sharing only in one placenta ( the source of their food )... so what happened to them inside my womb was like "racing" to grasp nutrients from only one source. Andrei weighs 1.7 kilos while Aeron pitiful to had just .7 kilos. Andrei is turning 4 now and grows to be charming & smart. I always missed Aeron, and wish he lived too. Is it right to always talk about your lost child to your other children as like he still lives? I had this guilt feeling i guess, why i'm doing that. In some point I blame myself for losing him. I thought, maybe if I did this or that he'll live... Until now, almost 4 years ago, whenever I saw twins... my heart is breaking... i'm close to crying... poor me!
9 responses

• Philippines
7 Feb 11
Losing a child is always sad. I lost my second child when she was barely 3 months old in my womb. I also blamed myself for losing her because I didn't take care of myself. I was so much stressed out with work, that I lost my baby in the process. I didn't know that it would be a delicate pregnancy as my first was really easy. Pregnancy differs as you age. I should have been more careful. Like you, I also wonder what must she be doing now, if she was alive. She should have been almost 2 now. What would she look like? I'm sure she'll be pretty. Until now, I am still praying for another baby to come. Well Lhenni, we have our angels in heaven now. We know that they are in a better place. What we can do is shower our kids with love, by doing this, we are also giving our little angels our love. When you kiss Andrei, you are also kissing Aeron.


• Philippines
8 Feb 11
Maybe, it's his way of assuring you that he is in a better place and you don't have to worry. I'm really hoping for a baby soon. It really is frustrating whenever I skip my period and thought I was pregnant. But when I do the pregnancy test it turns out to be negative. It's just really sad.


• United States
7 Feb 11
It has got to be so very difficult for losing a child. Especially when you carried him for 8 months. I can't imagine what you are going through. The only thing is though you have a beautiful child now...a healthy, wonderful, playful, smart, fast growing child that is a blessing. It is not wrong for thinking these thoughts, but there is absolutely nothing that you could have done. The only question in life that will kill you is the question of 'what if'. We will never know what if situations, I dont know what would or could have happened, but I do know one thing. That child that you lost was to great for us, God has much bigger plans for him, that's why he is there. Guilt is something that everone deals with, but don't let it blind you to the beauty standing in front of you with the child that survived. It's healthy to have some grief, and I wish i could be the one to tell you that it will stop...But, I can't. I don't think that it ever will. But I do know this...Everyday that passes will make it a little easier when you see your beautiful blessing that did make it. I hope that everything works out for you. God Bless!

• Canada
7 Feb 11
I think your children will understand much about the world because you talk about their lost little brother. They will also understand that you are human and have feelings, and this will help them be more compassionate with others. I am so sorry for your loss.

• Philippines
7 Feb 11
You made me realized that yes, i'm molding them to be compassionate with each other. Thank you for that. My children thought that they were blessed for having an angel brother up "there"... Me, too! I recall that time (year 2007), my eldest ( ages 6 that time ), was crying unstoppable because she dreamt about her lost brother... Like me, my eldest was suffering sadness that time. And now, we're gone through it... Time really if not can heal, will help you find a way to cope-up!

• Philippines
7 Feb 11
You're lucky to have Aeron for a child but God has other plan for His little angel Aeron. Let it be God's will. No, you're wrong or in any sense has done wrong when you speak of this little angel as if he's alive. He is indeed alive, in your memory and heart. He will always be a part of you, as a mother, our children are always part of us. We live in them, we breathe in them, we die in them. This is how wonderful this task is, being a mother!

• Philippines
7 Feb 11
Yes, thanks for saying that i'm lucky! It came to me then that i'm blinded by pains that I didn't notice the other reasons to be positive. Aeron was so small then... his lungs was not fully developed... who knows what problem will he suffer in case he lived! But as his mother, I had hoped for the best in him... that he will live normally... i don't want to entertain those negatives that might happen... Yes he's alive in me... Anyway, the joy he brought to us when he's still in me was a remarkably one!

• Philippines
7 Feb 11
Don't blame yourself for what happened. Usually when you had twins, there are tendencies that there will be an early labor. Just always remember that there is a reason why everything happened and that your baby is in heaven and is now an angel. Even if its hard to move on with that, always remember that you had another son and that he need you too as her mother. Don't let youself be preoccupied with that thought cause possibly there is a big chance of you forgetting about your alive son.

• United States
7 Feb 11
I'm sorry Lhenni, that is sad.

I admit I never lost a child, but if I had and had a living child, I would speak of the one who is not with you. You'r child, though is very small, might develop feelings the lost brother and by you keeping communication opened, your child will feel safe to share what their feelings are.

• India
7 Feb 11
You are not to be blamed Lhenni. This sort of things happen. My daughter also delivered at 8 months, and yes Harhini as we call her was less than a kilo in weight and had to be kept in an incubator.The first time, I saw her I cried, because of all the needles stuck on her.Well my wife took it upon her to nurse her, and now she is two years old. Yes, it would have been very nice if Aeron was also alive, but be thankful to god, that he has left you Andrei.Maybe god loved Aeron so much that he has taken him. I am certain you will be having a Aeron - 2.Best Wishes.

• India
7 Feb 11
Hi Really very sorry to hear about that, it was really very poignant. But you should take heart from the fact that Andrei's still with you and he's grown up into a healthy 4 year old boy. Usually deliveries at 8 months are not successful. My cousin lost her first born, a baby boy, who was born at 8 months. hope you will get over it.