Cat's Longevitity - Feline Dental Hygiene Matters!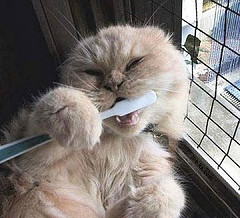 United States
February 8, 2011 7:07am CST
I was reading about cats the other day and was researching a cat's longevitiy, or how long a cat's lifespan can be. I had no idea that a feline's dental hygiene actually mattered! A veteranarian said that a cat could die as a result of circulatory and heart problems that could be traced back to bacteria that had collected in the gum area due to poor feline dental hygiene! I was so shocked to read this!

Who would have known that a cat could die from bacteria that came from poor dental hygiene? I can't believe that that would contribute to cirulatory and heart problems. That has really made me wonder. I don't think there is any way my 9 and half year old cat would let me brush his teeth. I worry now that his life might be cut short as a result of cat gingivitis or something like that.

Does anyone here regularly brush their cat's teeth? Or have dental vet checkups for their cats complete with teeth cleaning, etc.? I had never heard of anything like that before. I do buy my cats kitty treats that are supposed to help with removing tartar. Also, he only eats dry cat food so I think that helps to keep his teeth clean. Please let me know how you deal with your cat's dental health.
Have a great day and happy myLotting!!!

7 responses

• United States
8 Feb 11
DOnt have a cat but they say you are to brush the dogs teeth too never did it . GIve them the treats that is to clean teeth and make them strong our last 3 last till the were going on 16 years of age way beyound the expected life span for their breeds

• United States
8 Feb 11
Ick no I do not brush my cats teeth even if I really should. Luckily none of them have ever had dental issues. I had a dog once that I got when he was very old and he had rotted teeth. When my mother was little she used to take her brothers tooth brush and brush her cats teeth with it. Talk about disgusting because he continued to brush his teeth not knowing it had been in the cats mouth. The thought of that makes me want to gag.

• United States
8 Feb 11
Oh, no! That's the ultimate sibling secret trick! Icky!! Actually, cats and dogs have cleaner mouths than humans. Did you mom ever tell her brother what she did?!

• United States
9 Feb 11
I had a cat who got to be 13 years old. I had taken her to the vet once or twice for teeth cleaning. After 13 years her teeth were in such bad shape that she wasn't eating and I had to hand feed her soft food. I had to have her euthanized after the 13 yrs. Ever since, my cats have been taken regularly to the vet for dental hygiene. I've not encountered a vet who does it without anesthesia tho.

• Shingle Springs, California
8 Feb 11
Actually anybody can die from a dental condition that gets out of control. No I don't brush my cat's teeth, but I do take them in for cleanings every so often. Some dentist offer cleaning without anesthesia, which is much safer for the cat.

• United States
8 Feb 11
I brush my dog's teeth every so often. They don't like it! A cat would be a different matter, though, they are much more feisty! Sorry not to be any help here but.. Did you know that your own dental health has exactly the same consequences? I didn't know that till my dentist told me a few years ago. So brush, floss and take care of those pearly whites!

• Australia
18 Feb 11
Many years ago I acquired a cat who turned out to be pregnant. Once her kits were weaned I took her to be de-sexed and the vet gave her good overall check. About 12 months later, I forget why precisely, I think she was vomiting, but I took her to another vet and it turned out one of her teeth was rotten and had to be removed. The vet suggested specific food for her but she was already getting that. I think you can just be unlucky. You certainly cannot brush your cat's teeth.

I guess we should take them for regular check-ups to avoid anything wrong becoming worse.

• United States
10 Feb 11
Well, both of my cats are still really kittens. That said, I've only had pet cats in my life for the last year so I am still learning about them on a daily basis. Now, we do take Peaches and Buttercup to the vet on a regular basis, but she has never told us anything about dental hygiene for cats, so I will admit that this is a new one by me. I don't know that I would ever be able to get either of them to let me brush their teeth.