What Was The Most Bittersweet Moment Your Pet Showed You Their Love?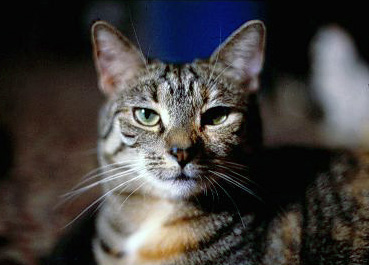 United States
February 9, 2011 12:14am CST
What Was The Most Bittersweet Moment Your Pet Showed You Their Love? I think many of us who have pets realize the wonderful unconditional love they have. They don't judge us, they don't really ask for much yet are capable of showing their love and affection to us without asking for anything much in return . I was talking about one of my cats over at Facebook. As many know my cat Pyewacket passed on April 19th 2010, yet this isn't about him but about one of my cats that I had years and years ago. Her name was Tippy. You might say I rescued her. It was on a warm May day, many, many years ago in the 1980s. I was at home and at one point looked out the window and saw a circle of kids tossing around a very young tiger-striped kitten as if it were a football. Enraged doesn't quite explain how I felt. I zoomed out of my apt. went straight to those kids and demanded they hand over the kitten to me and they did (they no doubt thought I was a looney tune). I cuddled the very scared kitten close to me an took her home. Despite her ordeal of being treated like an object she didn't seem to fear me or her new surroundings (I had about five other cats at the time) and quickly made herself at home. I named her Tippy since even though she was a tiger-striped cat, at the very tip of her tail it was the color of an orange tabby...thus the name "Tippy" Tippy became one of my cuddle bugs and velcro cat...she would hop on my bed to keep me company while I slept, and even gave me her version of a back message...All this attention she gave me unfortunately seemed to spark the jealousy of another cat, named Bobbie. He began to antagonize her, bully her, want to fight her. She began turning scared and timid and she felt her only safe place where Bobbie wouldn't bother her was up in a cabinet over the refrigerator. She was to remain there for years and years after, never coming down. I would have to place her food on top of the fridge, hoist up the litter pan for her to do her business. She just plain wouldn't come down. Then one day in 1996 I was sitting in the living room when a movement attracted me from my peripheral vision. Looking directly to the "movement" my jaw dropped as I saw Tippy walking around like the Queen of Sheba, unafraid of being bullied. At any moment I expected Bobbie to resort to bullying her again but he didn't. This should have maybe raised alarms, but I was just so happy to see her out and about again. She even resumed hopping up on my bed, giving me her back rubs, just as if nothing happened those years she stuck herself in the cabinet and not coming down from her "sanctuary". About two weeks passed, and Tippy remained feeling secure being out and not afraid of Bobbie and continued to snuggle up on my bed while I slept . Then one morning, I woke up and saw Tippy lying on the floor near the foot of my bed. I got up and went over to her to pet her thinking she was asleep, but no, she was still, lifeless....she had passed on. It was as if though, in her last moments of her life she wanted to be near me and why she was where she was on the floor at the foot of my bed. Okay--do you have any bittersweet moments of former pets you have had that showed you that perhaps in their final moments of life they continued to show you their love for you? Uh, I think we all need to pass around the tissues.

10 responses

• United States
9 Feb 11
Wow that's a very touching story :( Mine isn't nearly that touching. Every few months I go back to where I went to college to visit my friends for a few days and my cat understands what it means when I get the suitcase out. She is always kind of snippy and bitter at me until I leave but then when I get home she snuggles and loves on me. All the "cat-itude" I get before I leave is just her way of telling me she'll miss me... I think


• United States
15 Feb 11
I have sort of a different take on this. I used to have more cats than I have now, just have my one. Anyway, my mother would often tell me that about up to a half hour before I would come home from being out, the cats would sit in front of the door waiting for me. How they knew I was coming home I don't know, since the time I would come home was always different


• United States
9 Feb 11
I had a dog named Reggie....and I am telling you he was the best dog ever! I still cry when I think of him....well for years he never really acted like I was important to him even though I was the one who fed and walked him...bathed and cuddled him. When one of the kids would come around I was just someone who was there...after the kids grew up though it was just him and I....for about the last four years of his life. Where ever I was....he was there with me. The last morning he was alive...he had been very sick. He had cancer and all I could do was make him comfortable until the right moment where I could give him up....I was going to work in the morning...and he came and lay on my lap...his back legs no longer worked but he managed to jump up on the couch next to me.....and cuddled him and kissed him on the top of the head. For some reason I knew it would be our last day together...he looked up at me with his big brown eyes...and I hugged him gently so not to hurt him. My son came that day and took him to be put to sleep and out of his misery...my son was crying so hard he couldn't stay until the end....and me....for weeks after. I'll never forget the look in his eyes as I kissed him on top of his head......I have never felt so loved. In one of my books ther is a story called "Old Friend"....it is the story of Reggie!

• United States
9 Feb 11
Aww, I'm sorry pye, that is sweet that Tippy came to you in her last days. The last dog I had actually took off to find a place of rest. It was a neighbor who saw they thought they saw her on the bank, (This is off the lake, and only those with boats could see her.) So we borrowed our neighbor's boat since we didn't have one, and went and got her body..It was a really sad moment...


• Boise, Idaho
9 Feb 11
The pet that comes to mind is Stryder, the dog. He was actually my ex's dog and because he couldn't have pets in the apartment where he and I came together and met he had let him with his sister. She was coming up for a visit soon after he and I had gotten together and he asked her to bring Stryder up. We were getting a house. So Stryder moved in with us. He and I became pals almost immediately. Stryder, by the way, was a blue heeler. Short and sort of squatty dogs, herders and often associated with Australian Sheperds. But Stryder was a sweetheart. He would let me dress him in a hat and scarf one winter and I took pictures of him. He had that look on his face as if to say:"Lady if I wasn't sweet on ya this would never go over." I would go and lay in the yard on a nice summery day with my book. Here would come Stryder and be right there with me. Infact if my ex couldn't get him to do something I would go over and ask him and he would. Anyway, he got old. My ex and I had separated. He called me oneday to tell me that Stryder had fallen down the steps and he was taking him in to the vet. It didn't sound good. I saw him one last time. I just looked at him and I knew he wasn't long for this world. I was setting in my ex's living room and he came in from the other room. Our eyes met and he came right over to me and put his head down in my lap. It was like he knew. My ex and I had discussed it and we didn't want him to hurt anymore. My ex took him the next day and had him put down. We went together up to a meadow we had all camped out in many summers and had many very nice memories there. We buried him there by a tree. I will never forget that last day though when he came over and layed his head in my lap as if to say goodbye. Love and respect between human and animal in that moment haunts me to this day.

• United States
9 Feb 11

That's so sad... I hate hearing sad animal stories... but the topic is very interesting! We have a yellow labrador, he is a very good dog. He listens to us and he knows what we are saying. He does a lot of little things that melt your heart

Everytime if I get hurt or when I am sick, when I say "oh... it's painful... I'm hurt..." then he will come over to lick me, whack his tail and everything. I thought it is very sweet


• Garden Grove, California
10 Feb 11
pye mine is sad and bittersweet just before I left to have a hystectomy my mom promised to care for my dog who was elderly but healthy. she would not let me go that last day, and I did not know then the next day would be pats last day. I still feel anger when I remember this. I was so happy I was all well from the surgery and could pick up my two toddlers and my dog.so okay my hubby sat me down and told me trying to soften the blow my mom had had my dog, my dog mind you, put to sleep. He said mom had told him my dog was suffering and since it really was her dog at one time she had a right to have her put to sleep. I called the vet she had used to kill my dog and he said he had been reluctant to do so as the dog seemed old but healthy and showed no signs of suffering. So I grabbed my babies and went home, I told my husband what the vet had said and he was really angry.he called up my mom and he got her to finally tell the truth they did not want Pat they wanted a very small dog a pekineses dog. mean little fellow that bit you when you least expected it. it took a long time before I could forgive my mom for that. I never ever forgot it however.




• United States
9 Feb 11
YES I need the tissues that was a tearjerker. It was a nice ending that her last days were happy and loving ones. I have had so many dogs and cats as pets that I really cannot think of any one particular time as there have been more special loving moments than I can count.

• Australia
12 Feb 11
Thanks for the tissues...

To think that there are some who say animals especially cats are not capable of love...It is BS...They all show how much they care for their human and each one does it their own way. Tippy was so beautiful and I did shed a couple of tears as I read her story. I certainly have felt love from my animals and the only bittersweet moment I had was from my Friday who was very sick towards the end and could no longer jump up on things with ease like he used to. In the evening as I would sit and watch television he would struggle so much just to get on my lap until I helped him up; to me that was proof of how much he cared for me as he suffered so much just trying to reach my lap...