Valentine is coming...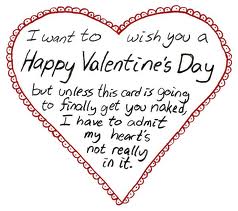 Australia
February 9, 2011 12:51am CST
There's this new girl that I just made friend with and I really like her... Valentine is coming and I wonder if it would be too early to buy her chocolate on this occasion? Is chocolate will be too obvious and Might it be a bad idea? what are you doing for Valentine? any ideas I could do on this day?
2 responses

• United States
9 Feb 11
I think your a sweet heart to buy her something so soon. You know it is great even to gift things to your friends. I bought my daughter panties and bras and I gave her a heart with chocolates in it.

• United States
10 Feb 11
Don't stress it so much then. Just leave it alone and don't give her anything at all. I would not want you to be hurt in the long run..


• Philippines
9 Feb 11
Well chocolates is not a bad idea for a Valentine's gift. You can give the girl a box and just a little note of friendship, remembering friends on this special occasions. If she's not committed, there's no harm in trying to catch her attention and maybe you too could share a good date on this special Day. A decorative balloons goes well with a box of chocolates, give it a try!

Happy and sweet Valentine's Day!