You've Got To See This....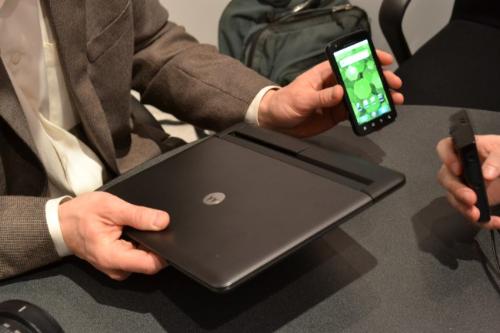 Singapore
February 12, 2011 5:23am CST
New smartphone from Motorola - Atrix a high-end dual-core 4G Android phone with rather impressive specs which runs on Android 2.2 powered by Nvidia's 1GHz Tegra 2 AP20H dual-core processor (one of the first dual-core phones) and has an impressive 1 GB of RAM (4x more than the average smartphones), 16GB of internal memory, a powerful 1930 mAh battery, a 540×960 4-inch multitouch screen with gorilla glass (scratch and shatter resistant), a VGA front-facing camera, a 5MP rear camera that can record 720p video, and a proximity sensor for auto-turn-off. If the specs aren't impressive enough, then you may consider the biometric fingerprint reader. The power button on the top rear of the unit doubles as the sensor, meaning that if someone that isn't you tries to turn on your phone, it just won't work. Also, you will like the availability of real true multitasking from this humble handset and if you are still skeptical, wait till you see its optional docking station which will turn your smartphone into a laptop. The peripheral is little more than a 15 (or so) inch screen and island-style keyboard with a built-in 8-10 hour battery. The phone connects via Micro USB and Micro HDMI connections on the side of the phone. When docked into the rear of the laptop shell, the Atrix is charged by the dock and powers the device. The unit had shortcuts to a folder/directory navigator for browsing files, QuickOffice, and Mozilla Firefox. As it stands, the device appeared to be fairly competent as a Web browser and seemed good for most netbook-like light applications and uses. On the side, I must say that the big make-or-break for the Atrix will be how many other apps are available for the desktop client, how usable they are, and how easy they are to obtain, as we all know that the apps for Android OS has recently become an issue of concern where even Google is even considering coming in hands on to resolve. Overall, I am really impress by it and just hope that the support will be up to the task in time to come. Read more: http://www.digitaltrends.com/mobile/a-complete-guide-to-the-motorola-atrix-the-only-phone-laptop/
2 responses

• Philippines
12 Feb 11
that is such a nice phone. but considering the specs i am sure it will be too expensive for me that i won't be able to buy it. but if the price will go down after few months. then i may consider buying it. i am planning to buy another phone actually.

• Singapore
12 Feb 11
hotsummer, I don't think it is feasible to buy the latest phone standalone. You may consider taking it up with a price plan from your local cellular network provider. I am sure you will need an affordable and feasible plan to use such a phone. I am not sure if this phone will be in Philippines yet but I think you can consider what I've just said while waiting for it to arrive.

• Philippines
12 Feb 11
I think I wont afford to buy it specially in a plan. for now my consideration in buying a mobile is touchscreen and good for internet even if the camera is not good. as long it has wifi.mine is nokia 5230. I'm ousting now using my phone. thanks to 3g signal. its quite fast. and I'm planning to buy nokia 5530 as it has wifi. and so that i have faster connection and don't have to pay for the connection . I will just connect to our home internet connection and not any more to globe, our local mobile net work provider.

• Philippines
12 Feb 11
i'd still pick go for a touch phone rather to pick a fliptop phone. thought the phone have lots of capabilities, still uses an OS which is not a user friendly, another thing the specs of the phone is not worth with the price.

• Singapore
12 Feb 11
gusherettes_38211, I am sorry but you had me lost here. Are you saying that the Android OS is not user friendly and that the phone's specs is not worth the price? Really?