Your best neighbor??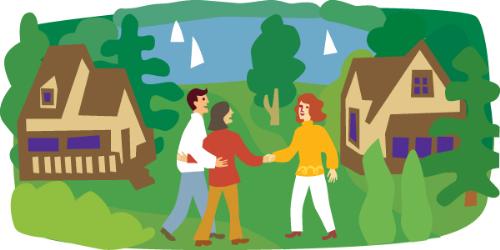 South Korea
February 14, 2011 6:07am CST
Well couple of years ago I had the best neighbor. They were actually my cousins are we lived next door. It was so fun and easy to meet, and we played together always. We climbed walls and visited each other coz we were bored of the gates lol. I miss them a lot now T-T So do you have memories of a good neighbor?
2 responses

• United States
14 Feb 11
I have good memories of my neighbor in Port chester where my daughter lives in my apartment. I spend time with her everytime I go to see my daughter. I think she is a wonderful person and she cares a great deal about my happiness.

• South Korea
14 Feb 11
That's really nice of her. I think life becomes a lot easier if we have good and supportive neighbor.

• United States
14 Feb 11
yes your right about that. I have had my share of neighbors from hell.

• United States
15 Feb 11
Hi. thatgirl13. I had many great memories of a neighbor that I used to be around. I would always go to their house. We would play games and play with dolls. There was another neighbor that I have enjoyed being around. She was so nice to me and she did not mind me coming over either. They would feed me. But as I have gotten older, I don't have any neighbors that are as nice as she was.

• South Korea
16 Feb 11
it sure feels nice to have a good neighbor. As i've gotten older now, i usually stay inside the house. I don't even know what kind of people live around me anymore.