Stress - How to avoid?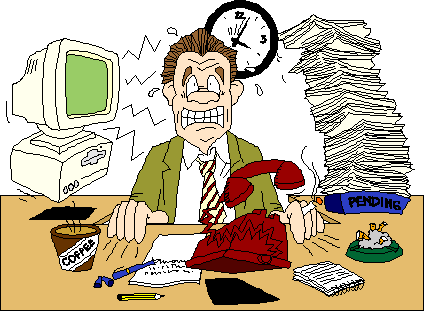 India
February 16, 2011 9:52am CST
I am doing business in India. As a business man i face lot of problems and i usually get addicted to stress regularly. I cant lead my normal life because of this stress many times. Event hough i try to avoid stress, my mind automatically fills with stress. Is there any suggestion from your end to relieve from stress , through simple means.
5 responses

• Philippines
16 Feb 11
give your self a break at least once a week ....or go to places where you can find relaxation...

• India
17 Feb 11
in my business there is no room to take a leave, that's the problem.

• Romania
16 Feb 11
Relaxation exercises: breathing,yoga, stretching, etc ... Bubble bath and more flavor

Read something cool or watch a movie. Walks, dinners with friends, walk in nature. This is not necessarily the order, in each case apply what you have on hand!

• United States
16 Feb 11
How about a day off to do something fun? On my day off from school I would treat myself to a little tv and be lazy. That is the best way for my to take some stress off my mind.

• Philippines
17 Feb 11
Experts would say that proper breathing would really help. Through this you will feel relaxed. I truly believe in this but the thing is, it is hard to do when you have so many things running around through your head. However, I found a way on how to apply this. I see jogging is the best thing to do. Just jog for a couple of minutes a day. Through jogging you will feel tired and so you would need to breath more to have sufficient supply of oxygen. And before you know it, you are doing breathing exercises. Just do it properly by breathing in through your nose and out through your mouth. It works with me and I hope it would help you.

• India
17 Feb 11
Yes your idea seema to be good. I will definitely try this. Thank you

• Philippines
2 Mar 11
Same here, but my boyfriend use to say, just don't think about it. I told myself, easy for you to say. But if you will think about it deeper, that's right. We are being stressed because we always think of what's gonna happen, or try to turn around a situation that cannot be changed anymore. If we will only learn how to trust that things will go in their rightfull places, no matter how long it takes, no matter how bad it started. That way, we don't have to worry about it and we don't have to be stressed about it. We can sleep soundly as well. Another thing about changing your mindset is focusing it to positive things. Engage yourself in physical activities that will relax your mind. Those activities depends upon your preferences.