Declaring Your Love to Someone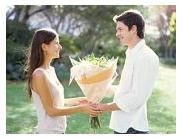 Malaysia
February 18, 2011 4:19am CST
When you fell in love with someone, you need to tell her/him that you have crush on her/him. Most of the people will feel shy and they do not know how to tell, and due to that, they just keep it and when time goes by, they lost the opportunity and they will never be able to tell their feeling to the person they love. So, how many time have you lost a chance to be together with someone you love because of you do not know how to tell or too shy to tell her/him? And for those who have successfully declare your love to someone, what is your method that you have used to let someone know that you love her/him?
6 responses


• Malaysia
18 Feb 11
Since it happens so many time to you, you must have a lot of experience in dealing with this kind of situation where you like someone but it is hard to tell her.

I think when we get enough experience on this kind of thing, we will become braver to tell someone that we love directly.


• Bhubaneswar, India
18 Feb 11
Hi yspmyl, If you are seriously involved, go ahead and tell the other person involved... this would definitely help both of you. That is me and this is how I started... I saw her fell in love with her... then waited and one day when I saw her I proposed her straight away.

• Bhubaneswar, India
18 Feb 11
See, the risk factor is always there. What I feel is that if you are not being honest to telling the feelings that you have, you are lying and hurting yourself. The worst that could have happened with me was that she would have rejected the proposal and that way I would have been sure that she is not interested. But if I would not have communicated, then, I would have continued on with my belief that she loves me... thinking... thinking... nothing happening in reality. This is why I believe that whatever it is you should convey at the first possible chance. At least you would not keep yourself undecided.

• Malaysia
20 Feb 11
ha! ha! ha! Whoever involves in this matter should be conscious and smart. If you get a good response from the one you like, then only you should continue in showing your concern and love to her or him. If you can not get a good response from the one you like, you better be smart and conscious for not continuing any further move. Never hit your head to the wall anymore.

• Malaysia
20 Feb 11
That is what most of the people will do, they only dare to proceed when there are positive respond from the person they admire and they dare not take any further action and give up just like that because they are fear of rejection. Don't you believe that
No pain no gain!



• India
18 Feb 11
It is always advisable and must to confess and tell the partner that he/she is love and only then her/his partner will come to know that some one is loving her/him

• Boulogne-Billancourt, France
14 Aug 13
I'm about to go tell her i love her, & in all honesty i'm scared xxxx i've known her for about 8years we've always been friends at the start i'd already asked her out and told her my feelings to be let down nicely she basically didn't wan't to be with me because she didn't want to hurt me, she was 16 at the time & me 18, now *7years later having been friends since, i feel that what we have could be something more. So i'm going to tell her, i suppose what i fear the most is losing her all together because she just wants to be friends or something like that. But without saying anything i'm just going to go mad! good luck me =)