Had India take revenge at Ban for WC 2007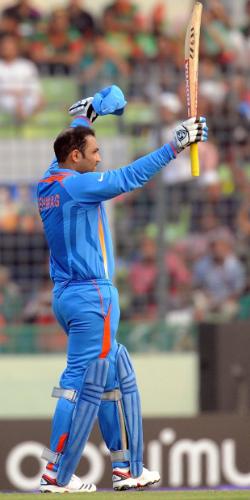 India
9 responses

• India
20 Feb 11
A revenge well taken with professional display. No rush of blood, pure professionalism. Sehwag placed his innings well after Sachin got out. Gautam played his part well. Kohli get better with each game. Fantastic display from him. Sreeshanth got hammered when he got his chance. Munaf got 4 wickets. Job well done. The platform is laid for Indian team. They are looking better and have a good chance of winning every game.

• India
20 Feb 11
surely its a revenge taken by India against bangladesh for the failure in last WC odi. in that match Inida was all out for just 191, here we took almost the double runs in the 50 overs. that include two good centuries, 175 from viru was excellent.

• United States
20 Feb 11
I'm an American so I don't know about it but I'm glad that you enjoyed watching it!

• China
27 Mar 11
I don't think so that India could do that. India cricket team has very strong and experience and elder player and where Bangladesh cricket team has unexpected and younger player. But still Bangladesh fight and made 283 against India cricket team so i don't think so that India could do that. Bangladesh loose the match but still people think that they did very well. Have a good time!

• India
20 Feb 11
Definitely they have. I think they entered the match with determination as to not let that happen again. And once Sehwag started middling the ball, the writing was on the wall. Once India had put 370 on the board, Bangladesh was just playing for pride. They did fight back well, but fell way short of the target. Cheers! Ram

• India
20 Feb 11
It was a sweet revenge for India. Indians are strong,and played excellently. Good stert for India and WC

• India
20 Feb 11
It was indeed a sweet revenge for India against the team Bangladesh who spoiled their '07 world cup dreams in the Carribeans. It was a bright start and lived up to the promise it showed before the world cup. It is all the more praise worthy because the the game was played in opposition den. India is definitely going to be the force in this world cup as predicted by many experts.


• India
20 Feb 11
Yes I am also thinking and want to ask that India had taken the revenge on Bangladesh I think because India was defeated by them in 2007 WC and 2011 WC India smashed them away